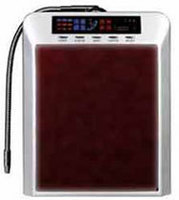 In practical terms it means you'll get better water by far, even with the Purified Only water, and you'll get more antioxidant effect with the alkalinized water, without an accompanying increase in alkalinity.
North Port, FL (PRWEB) December 19, 2008
EvolutionHealth.com is adding water ionizers to their product line. The first task of a Water ionizer is to filter harmful components of the water: chlorine, trihalomethanes, phenols, sediment, odor, taste, organic waste, and bacteria of all kinds. All our water ionizers achieve this by the use of multi-stage activated carbon replenishable filters. However, our water ionizers also go one big step further.
As well as filtering out impurities from the input water, the Jupiter water Ionizers passes the water through a 'BioStone', a ceramic formed of the semi-precious mineral Tourmaline.Tourmaline naturally emits far infrared energy (FIR) and changes the surface tension of the water, making it (a) easier to process for the ionizer and (b) beginning the negative ion creation process.
"In practical terms it means you'll get better water by far, even with the Purified Only water, and you'll get more antioxidant effect with the alkalinized water, without an accompanying increase in alkalinity. "
Ionized Water Is Nature's Antioxidant. Alkaline, ionized water acts as a powerful and natural antioxidant.Because 60% of our body weight consists of water it is important to look at what type of water will benefit you the most. Ionized water through having a negative ORP (see below) and through producing hydroxyl ions helps with oxygen production, neutralizing harmful free radicals, increasing your energy level, correcting your body's acid/alkaline balance, hydrating cells and in general reducing many of the symptoms of aging.
Ionized water is an excellent and convenient way to add alkaline minerals to your diet. Not only are calcium and magnesium needed to protect you from osteoporosis, but there is now strong evidence that magnesium in your drinking water prevents heart and cerebrovascular diseases.
EvolutionHealth.com offers health products that are based on Blue's research and Experience over the last 24+ years. He has determined that these rejuvenating tools are the Foundation of Optimal Health and Fitness, this Foundation being comprised of: Functional Flexibility and Functional Strength, Nutrition, Detoxification and Cleansing, and Inversion.
EvolutionHealth.com offers an extensive line of health products, including saunas, inversion therapy equipment, rebounders, air purifiers, water ionizers and nutritional supplements. An Infrared sauna will aid with detoxification and include other benefits such as a passive cardiovascular effect, weight loss, and increasing flexibility. An Inversion table will counter the anti-aging effects of gravity by relieving back pain, decompressing joints, and increasing oxygen to the brain. A Rebounder or a mini-trampoline will help you achieve functional strength while cleansing your lymphatic system. An IQAir Air purifier will cleanse the air you breathe by reducing environmental pollution, which will positively impact your immune system. An air purifier is great for those with allergies or mulitple chemical sensitivities.
EvolutionHealth® was founded by Blue Dunn, the only person ever in the Health and Fitness Field to combine the experience of over 16,000 hours Hands-On Structural Release Realignment Therapy (since 1984), teaching and performing tightrope and tightwire walking (since 1984), and teaching Movement Reorientation Classes (Flextasy®) since 1991. This eclectic and relevant background experience has given him a unique and valuable understanding of Body Mechanics, and what it takes to bring Flexibility, Balance, Strength, and Alignment to any body.
Blue Dunn is the creator of The Flextasy Functional Flexibility System®; EvolutionHealth®, a Life Reorientation Total Fitness Program; and HydroYoga, his water-based passive Yoga Release Modality which he practices in Warm Mineral Springs, Fl; and San Diego, CA.
For a limited time, EvolutionHealth.com is offering a free PH miracle book, free Reverse Aging book and free shipping with the purchase of a water ionizer. In addition, Blue Dunn is including his flexibility program, Flextasy: The Functional Flexibility System DVD set, with the purchase of any water ionizer, infrared sauna or rebounder. Blue has taught his flexibility program in various health facilities and hospitals in San Diego, Calif. and North Port, FL.
###