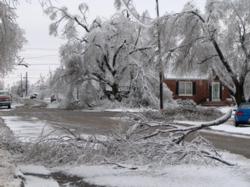 The coming winter season is likely to be very active, with intense snowfalls and ice accumulation across much of the Midwest.
Cleveland, OH (PRWEB) December 29, 2011
RestorationLocal.com announces water restoration services available across all 50 states in advance of what is anticipated to be a very active winter for 2012. The water damage restoration company encourages property owners to call for professional help in the event of damage as a result of ice, snow, or rain, and has made preparations to be available and offer same day emergency service to those affected.
Most forecasters agree that the coming winter season is likely to be very active, with intense snowfalls and ice accumulation across much of the Midwest. Whereas New York was the epicenter of last year's blizzard events, the main target for this year's storms is projected to be Chicago.
In the event of severe water damage, professional repair services are always recommended, simply because the level of work required is usually beyond the scope and abilities of the average homeowner. Water restoration is an exact science, involving a number of steps to be taken in a pre-determined order, and done right the first time. Failure to do so invites subsequent problems. If structural members are not properly reinforced, the structure may be weakened, increasing the possibility of collapse. In other cases, homes that are not properly dried out may become a hotbed for mold growth, which can not only damage the structure but may also cause health problems ranging from the slight to the severe.
Professional water restoration services such as RestorationLocal.com offer a complete range of services designed to return properties to their pre-loss condition. They have the equipment and training needed to remove the water from the property, dry everything out, and treat it appropriately in order to avoid further damage or additional problems. In addition, same day emergency service is offered in most cases, and all work is guaranteed.
RestorationLocal.com also recommends avoiding any water restoration company that is not affiliated with an industry certification provider such as The Clean Trust or the Restoration Industry Association. Certification indicates that the company in question has devoted time, resources, and finances to the proper training and equipping of their personnel to handle even the largest water damage jobs.
RestorationLocal.com was established in 2009 and has become one of the leading restoration service providers in the US.
###