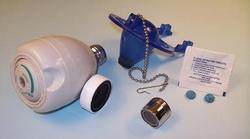 We tested scores of water-saving products for the home and found the highest quality, best performing, most economical products available. Three simple replacement parts in the bathroom -- the Earth Massage showerhead, WaterSaver toilet flapper, and WaterSaver faucet aerator -- are all you need
Charlottesville, VA (PRWEB) January 29, 2008
EZWaterSaverKit.com announces an inexpensive water conservation kit that cuts water usage and monthly bills by 50%. The EPA reports that the average family uses 400 gallons of water a day, mostly from three sources -- showers, toilet flushing, and faucets. The EZ WaterSaver Kit replaces three simple parts in the bathroom that install easily in minutes and perform so well you can't tell the difference.
"Water, not oil, is our most precious resource. Only 1% of the earth's water is usable and we're running out of it. The EPA predicts that 36 states will face water shortages within five years. Our goal is to make it easy for people to cut their water consumption in half and save hundreds of dollars a year without sacrificing comfort," says Wayne Josephson, president.
"We tested scores of water-saving products for the home and found the highest quality, best performing, most economical products available. Three simple replacement parts in the bathroom -- the Earth Massage showerhead, WaterSaver toilet flapper, and WaterSaver faucet aerator -- are all you need," he adds.
The Earth Massage showerhead has a 1.25 gallon per minute flow that saves up to 85% of the water of a typical showerhead, but still provides a superior shower experience. The WaterSaver toilet flapper saves 50% of the water per flush by closing early, allowing a full flush without discharging all the water from the toilet tank. The WaterSaver faucet aerator has a 1.0 gallon per minute flow that saves up to 65% of typical water consumption.
The EZ WaterSaver Kits are conveniently packaged into Full Bath and Half Bath kits and come with easy installation instructions.
Contact:
Wayne Josephson, president
EZWaterSaverKit.com
434-227-2727
http://www.EZWaterSaverKit.com
###