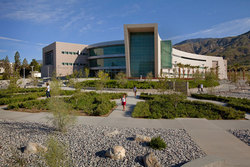 Education is a cyclical journey and passage through the COE marks a small, but very important part of that circle. Students become teachers and in return, go out into the community and educate the leaders of tomorrow
San Bernardino, CA (Vocus) August 25, 2009
California State University San Bernardino's newest signature structure celebrates its first year of occupancy. Designed by sustainable experts at LPA Inc., the $51 million, three-story building has 140,000 square feet of office and classroom space. Previously operated out of multiple buildings, the College of Education (COE) now resides in one, unified location.
"The new COE building is the most technologically advanced building on the CSUSB campus," says Robert Garcia, Information Technology Consultant, California State University San Bernardino. "Every classroom is outfitted with the latest in instructional equipment. It has become 'the hub' of social activity on campus and everyone enjoys the space."
The building is one of the largest structures on campus, with classrooms, laboratories, much-needed office space for the college's faculty and staff, and a roof prepared for photovoltaic solar panels. The COE supports the clinical and technological needs of the post-baccalaureate and graduate programs. Funds for the building came from Proposition 55, the $12.3 billion statewide school repair and construction bond.
"Education is a cyclical journey and passage through the COE marks a small, but very important part of that circle. Students become teachers and in return, go out into the community and educate the leaders of tomorrow," comments LPA Design Principal, Steve Flanagan.
In true sustainable fashion, great consideration was given to work with the harsh, high desert environment. Although located in the desert most of the campus is covered in lawns, shrubs and water intensive plants. Taking cues from the natural environment, the COE's new landscape reflects a natural desert habitat. This sustainable site concept regenerates the land with native flora while it conserves water, reduces maintenance costs and promotes a drought-tolerant xeriscape.
"CSU San Bernardino will experience significant water savings because the plants selected are less water intensive and more site appropriate," explains LPA Landscape Architect, Rich Bienvenu. "We tapped into a natural, onsite aquifer and this is unique because it is not something that most campuses have available to them. The aquifer provides for 100 percent of the irrigation needs."
As California enters its third consecutive year of drought, water efficient strategies are more important than ever. This landscape signals a new sensibility to water use and environmental concerns on campus. The building and site work as one to showcase informed, sustainable design.
Project Address:
5500 University Parkway
San Bernardino, CA 92407
About LPA Inc.
Founded in 1965, LPA has more than 230 employees with offices in Irvine, Roseville, and San Diego, Calif. LPA provides services in architecture, planning, interior design, engineering, landscape architecture, signage and graphics. They have more LEED certified buildings than any firm in the state and of their employees, more than 78 percent are LEED accredited professionals.
With extensive experience in public and private architecture, LPA designs a diversity of facilities that span from corporate and civic establishments to K-12 schools, colleges and universities. Their passion for Higher Education design manifests itself in more than 80 projects, 25 of which were completed during the past 5 years and won 37 awards for excellence in educational design.
###