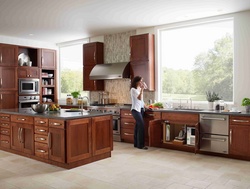 It is easy to forgo our healthy routines and indulge in the delicious cakes, eggnog, wine and other treats during the holidays
HANOVER PARK, Ill. (PRWEB) December 16, 2008
"It is easy to forgo our healthy routines and indulge in the delicious cakes, eggnog, wine and other treats during the holidays," says Eleni Yianas, director of marketing for Pentair Residential. "As an offset to the many traditional treats, drinking lots of water has proven to boost the body's metabolism and curtail cravings."
A study published in the December 2005 issue of Obesity journal found that individuals who drank an average of 6.5 cups of water per day consumed 194 fewer daily calories than those who reported not drinking water.
Part of the reason many people won't drink their daily allotment is because of tap water's taste. Everpure's H‑300 Water Filtration System is equipped with Micro-Pure® filtration media and proprietary precoat technology which remove harmful impurities that cause unwanted odor and bad taste.
Everpure's revolutionary H-300 Water Filtration System is also compatible with the company's inventive accessories, such as the Exubera™ Sparkling & Chilled Water Dispenser and Helia™ Instant Hot & Chilled Water Dispenser which add a little variety to the healthy routine.
The Exubera™ by Everpure serves sparkling and chilled water right from the tap, which is perfect for preparing an Italian soda with a holiday twist by adding sugar-free peppermint or gingerbread syrup. A warm cup of herbal pumpkin spice tea or a low-calorie hot cocoa is also a snap with the Helia™ appliance by Everpure, as it conveniently offers instant hot water from the faucet.
Healthy habits are also easier to keep when they are convenient. One way adults and children can stick to drinking water is by taking it to-go with a small or large BPA-free reusable water bottle, found at an eco-conscious specialty store.
About Everpure:
Celebrating its 75th anniversary, Everpure is the leading manufacturer of commercial water filtration products worldwide. More restaurants depend on Everpure for their water filtration needs than any other brand. Everpure has also become a trusted provider of drinking water systems to vending, consumer, marine and aviation markets, and has aided numerous industry leaders in the improvement of their water treatment. Everpure is part of the Filtration division of Pentair, Inc. (NYSE:PNR). For more information, contact Everpure at (800) 323-7873 or visit http://www.everpure.com.
MULTIMEDIA GALLERY http://www.businesswire.com/cgi-bin/mmg.cgi?eid=5854652