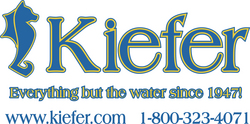 The Kiefer Shot Clock allows even the most modest program to have Olympic caliber features at an economical price.
Zion, Ill. (Vocus) September 17, 2008
Timing is everything, but for too long water polo enthusiasts have played, coached and officiated their sport with nothing reliable to mark time. Not anymore.
Using the expertise and input of Olympic gold medalists Brad Schumacher and Wolf Wigo, Adolph Kiefer & Associates has designed a full-featured Shot Clock System that promises to allow water polo aficionados to spend more time focusing on scoring goals and less time worrying whether the clock is reliable or not. The ultimate in water polo timing equipment, Kiefer's durable and easy-to-use system surpasses anything currently available on the market.
"I have been a long time supporter of Water Polo as one of the great sports to get and keep more people involved in swimming of all kinds," said Adolph Kiefer. "The Kiefer Shot Clock allows even the most modest program to have Olympic caliber features at an economical price."
Kiefer's system contains all the features necessary to allow officials to professionally manage the timing and pace of water polo matches. The mechanism includes a fully wireless RF system, preventing cables from cluttering your deck or storage spaces. It's made with a lightweight and durable molded polyethylene body for easy transportation and durability. Its ultra-bright 7-inch red LED displays and oversized alarm clearly signal clock violations and avoid confusion.
In addition, Kiefer's system features a Smart Charge battery-operated system and an easy-to-use robust control console to program and operate the system. Kiefer's system can also be used as a swim-training pace clock or as a countdown timer.
About Adolph Kiefer & Associates:
Adolph Kiefer & Associates was founded by Olympic swimmer Adolph Kiefer in 1947. As the official aquatics supplier to the 1948 U.S. Olympic Swim Team, Kiefer's company introduced the nylon swimsuit as a lightweight alternative to wool and cotton suits and cost alternative to the silk suits used at the time. The 1948 Olympic Games debut launched the revolutionary nylon Kiefer suit to create a competitive swimming standard. Mr. Kiefer continues to dedicate his life to helping swimmers of all ages and abilities pursue dreams of swimming glory. The company sponsors a full calendar of competitive swimming events and is a top competitive swim team supplier. For more about Adolph Kiefer & Associates, visit http://www.kiefer.com.
Media Contacts:
Bill Fischer
224-789-2614
wmf @ kiefer.com
Brad Schumacher
949-874-2265
setwpc @ yahoo.com
###