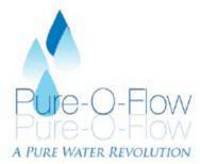 Beverages taste clean and the coffee is consistent with every cup we serve to our customers.
Las Vegas (Vocus) October 14, 2009
Today Pure Revolution, a company specializing in commercial and residential water purification systems systems powered by GE technology, announces that the results from its water treatment are perfectly aligned with Royal Farms' business goals.
Since 1959, Royal Farms' convenience stores have been satisfying the mid-Atlantic area's hunger for real fresh food served real fast. Royal Farms convenience stores, strategically located along frequently traveled routes for fleets and vacationers, as well as within close proximity to local residents have set an aggressive annual growth rate of ten percent. To accomplish this goal it had to focus heavily on growing same store sales.
As hot and cold beverages are always in high demand for travelers and go hand in hand with Royal Farms' food sales, the quality of the water was of paramount importance. Due to very high total dissolved solid levels and high acidity in the mid-Atlantic area, Royal Farms had installed a water filtration system. Unfortunately, it wasn't very effective in treating the water to reduce the bad taste, color and odor that was having a negative impact on beverage sales and ice.
Royal Farms installed PureOFlow reverse osmosis systems as a pilot program in nine locations in Maryland and Delaware. According to the manager at the Corporate store location, "Beverages taste clean and the coffee is consistent with every cup we serve to our customers." Since installing the PureOFlow systems, these stores have seen a spike in beverage and food sales as their beverages are tasting better than other quick serve restaurants in the area, complemented by clear ice.
Another of Royal Farms' business goals is consistent improvement of organizational efficiencies and control of expenses. With expense control being a predominant factor for growth, each of these nine locations is proud to be saving $3000 a year in costly filters after changing to the PureOFlow system for the beverage, coffee and ice machines. They also expect to reduce soda syrup usage with purified water after rebrixing the soda machines.
Prior to PureOFlow installation, the aggressiveness of the water was causing frequent equipment breakdowns. A relieved Royal Farms Maintenance Engineer was quick to point out, "No repair calls on coffee or related beverage equipment sine PureOFlow put their systems in the stores."
Mike Paice, president and chairman of Pure Revolution adds, "Time and again, our competitive advantage is cost-savings through reduced filter usage and the noticeable difference in taste and smell. Bad tasting water can quickly ruin any beverage regardless of its exotic blends or high quality syrup."
The impact to customers can best be summed by an unsolicited comment from a regular customer stopping by for her morning coffee, "the best tasting coffee in the county." That is a competitive edge.
###