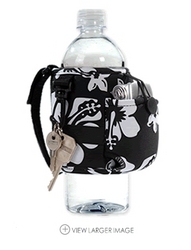 As a busy mom, I needed a product that simplified my life and allowed me to track my valuables in one compact place. I wanted something that was versatile, affordable, and more fashionable than an outdated fanny pack
Orange County, CA (PRWEB) June 18, 2008
Lianne La Reine of Star Selling, Inc. is pleased to announce that her newest client, JoeyJean, Inc. is launching its Joey Jam Pack water bottle holder on the June 23, 2008, 5 p.m. EST showing of the QVC network. Joey Carlile, founder of JoeyJean Inc. is focused on creating convenience products for consumers who value an active lifestyle.
"As a busy mom, I needed a product that simplified my life and allowed me to track my valuables in one compact place. I wanted something that was versatile, affordable, and more fashionable than an outdated fanny pack," said Carlile.
The Joey Jam Pack wraps around bottles of any size or shape, including reusable water bottle containers, and holds a cell phone/iPod, keys, energy bar and ID/money/gym card. The Jam Pack doubles as a fashionable wrist wallet or a palm purse when water is not needed. It can also be attached to a belt, stroller, shopping cart, or golf bag.
Designed for both young and mature consumers, the JoeyJean products offer retailers, promotional companies, and fundraising organizations the opportunity to tap into the consumer's desire for convenient, active lifestyle products.
Donny Deutsch of CNBC stated that the Joey Jam Pack is "Clean, crisp...a million dollar idea."
Perfect for sporting events, Nestle Water used the Joey Jam Pack water bottle carrier at the Danskin Women's Triathlon last year. For two years, JoeyJean has provided the Susan G. Komen Foundation with special pink Joey Jam Pack compact water bottle holders called the Race Day Valet™. Proceeds from sales benefit the foundation.
This year JoeyJean was invited to showcase the Joey Jam Pack water bottle carriers at the Olympic Track and Field Trials gift lounge in Eugene, Oregon.
JoeyJean is just one of the many unique clients that Star Selling has successfully brought to the QVC network, one of the largest multimedia retailers in the world. Other extraordinary clients have included Hollywood Fashion Tape, DivaDerme Cosmetics, and the Gal Pal Garment Deodorant Remover. Star Selling primarily works with patent attorneys, manufacturing reps, distributors, inventors, manufacturers, and developers of finished goods.
Lianne La Reine, president of Star Selling is always looking for the next clever product or product line to showcase on the shopping channels. Said La Reine, "Products that do well on the shopping channels are products that benefit from demonstration, solve an everyday or common problem, have broad appeal, and are unique and special. Especially successful are product categories that follow trends. At the moment, we are particularly interested in jewelry, accessories, cleaning, beauty, fitness, gadgets, and personal care."
For additional information about the JoeyJean product line, please visit http://www.joeyjean.com or contact Joey Carlile at 877-240-5639.
About Star Selling, Inc.:
Lianne La Reine, president of Star Selling, Inc. is uniquely in tune with the shopping channel customer demographic. She has over 10 years experience, both on camera and off, sourcing products to the shopping channels. Her marketing and fashion background have given her tremendous insight on selecting products and how to maximize on-air sales. Star Selling clients have included Hollywood Fashion Tape, DivaDerme Cosmetics, and the Gal Pal Garment Deodorant Remover.
###