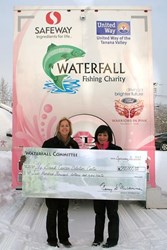 From every level of our organization we stand behind the Foundation and are proud of our partnership
KETCHIKIAN, Alaska (PRWEB) October 30, 2013
Waterfall Group, the leader in all-inclusive sport fishing resort management, today announced historic Waterfall Resort was selected once again by the Waterfall Foundation to host the 21st annual Breast Cancer Fundraiser, a benefit for the Breast Cancer Detection Center of Alaska.
"For 21 years we've hosted 80-90 bighearted individuals at the public fundraiser," said Steve Cockrell, General Manger, Waterfall Resort. "From every level of our organization we stand behind the Foundation and are proud of our partnership."
Since the launch in 1993, the event has raised over $5 million giving thousands of rural Alaskans access to mobile mammogram and digital ultrasound screening machines, regardless of their ability to pay.
"Because of generous attendees and Waterfall Resort Alaska, the Center has been able to purchase, store and maintain mobile mammography units, bringing screening to those otherwise unable to be examined," said Eileen Van Wyhe, Executive Director of The Waterfall Foundation. "Attendees at the 2013 event helped us raise $200,000 for the Cancer Center. We are looking forward that same level of accomplishment in August 2014."
October is Breast Cancer Awareness Month, a nation-wide campaign that promotes prevention, detection and screening.
About Waterfall Group
Waterfall Group is the leader in all-inclusive Alaskan fishing resort management. Founded in 1982, Waterfall Group properties are known for their unique destinations, warm customer service, expert marine crew and close proximity to the best fishing in Alaska. Welcoming more than 60,000 guests at its historic and luxury properties, Waterfall Group boasts an impressive guest return rate that includes multiple generations. http://www.WaterfallResort.com and http://www.SteamboatBay.com.