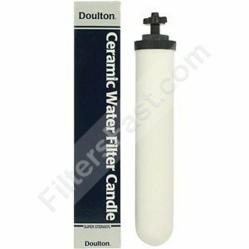 Charlotte, NC (PRWEB) May 29, 2012
Filtersfast.com, an authoritative resource for consumers regarding the importance of changing residential and commercial air filters and water filters, is a supplier of Doulton eco-friendly, reusable cartridge filters. Providing safe, healthy, great-tasting drinking water wherever and whenever you need it is the basic principle behind Doulton products.
Fairey Industrial Ceramics Limited (FICL) is the sole manufacturer of the world famous range of Doulton ceramic drinking water filters. Millions of Doulton ceramic filter candles are produced annually, which sells to 140 countries worldwide. Their global success is due to the versatility of the products by producing clean, healthy, great tasting water, at anytime and anywhere.
Installing a home filtration system offers a greener and cost effective solution to having good quality drinking water. Bottled water is expensive to buy and produces a lot of plastic waste that is not an eco-friendly alternative. Whether a filter unit is needed underneath the kitchen sink, on the countertop, mounted on a wall or in the back of a water cooler, Doulton provides drinking water solutions for practically every situation.
All stages of FICL's drinking water filter production process adhere to stringent ISO 9001 quality standards. Fairey Industrial Ceramics Limited holds the coveted NSF and WRAS certificates, demonstrating that the drinking water filters have passed the highest international testing standards. High quality standards are why the Doulton brand name is so well known and respected for use in home water filtration systems in the United States.
Since 2004, Filtersfast.com remains the leader in online air filters and water filters. By simplifying a sometimes mundane, but very necessary task, Filtersfast.com strives to add to their customers' overall quality of life by offering first-rate products at the best competitive prices. For more information on residential air or water filtration, visit http://www.filtersfast.com.