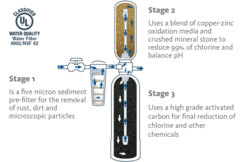 Minneapolis, MN (PRWEB) April 10, 2012
When purchasing water filter systems for their home people need comprehensive information to help them make an informed decision. The Whole House Filter System website offers all the details on why a whole house filter is the most economical form of filtration.
Whole House Filter Systems wants people to understand that a whole house water filter is the best and most affordable solution to a homeowner needs. The prices to acquire individual water filter systems inside a home to cover most unfiltered sources can be overwhelming when someone wants to defend an entire residence. Water filters are needed for sink taps, showers, bathtubs, refrigerator ice-maker and water spigot and for dishwasher and washing machine also. A whole house water filter is always more cost effective not only because of the price, but because of the time and work involved in order to take care of only one water filter instead of having to deal with multiple ones.
Having a whole house water filter installed in a house greatly enhances the overall healthfulness of drinking water. Only clean and filtered water will emerge from every water source in the house. No chlorine or any other chemicals will be released into the air alleviating the effects of asthma and allergies, for those already suffering of these diseases. There are different things to consider when buying the right whole house water filter like impurities in the water, sediments, chemicals or iron and Whole House Filter System offers comprehensive information to help people find the practical solution for their homes.
Pure water is vital for optimal health. Drinking and showering in unfiltered tap water can be dangerous for each person. It is already known that in developing countries drinking contaminated water is the leading cause of epidemic disease. Some toxic materials present in drinking water are the potential triggers for several types of cancer. The municipal treatment facilities don't always control all of the dangerous contaminants in tap water. These are only a few reasons why installing a whole house filter is essential and vital to having healthy water for any home.
Buying a whole house water filter for your home will give you and your family the strong sense of health and safety you deserve. Not only will you have water that tastes clean, pure, and refreshing, it will be much healthier for you too. All of the beverages you make with it like coffee, tea, and juice will taste far better also. Plus you will have the added benefits of softer skin and smoother hair when you bathe.
The benefits of a whole house water filter are obvious. It will keep you and your home healthier and happier plus you'll receive the added perks of saving time and money with your own in home whole house water filter.
About
Whole House Filter System is dedicated in bringing experienced knowledge to the people. Everything they need to know about why is essential to have a whole house water filtration, how this works, how to install and what are the benefits on using a whole house water filter can be found on Whole House Filter System's official website. For more informed details visit http://www.wholehousewaterfilter.us.