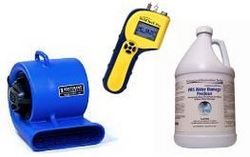 We are excited to have Cara Agerbeck & Jim Anders join Abatement Technologies as we continue to expand high-quality restoration solutions to professional restoration contractors.
Suwanee, GA (PRWEB) September 19, 2010
Cara Agerbeck and Jim Anders have joined Abatement Technologies to expand sales and technical support of the company's water restoration equipment, products and chemicals to water, fire and disaster restoration contractors. Both individuals are based at the company's Suwanee, GA headquarters.
Cara Agerbeck takes on the role as National Sales and Marketing Manager Restoration. Cara is an IICRC Master Restorer & Cleaner (Institute of Inspection, Cleaning and Restoration Certification) with many years of hands-on structurally drying and water restoration experience as general manager for a large restoration company. Most recently, Cara was regional sales manager for the nation's largest cleaning and restoration products distributor. She serves on the board of directors for the Society of Cleaning and Restoration Technicians and is a former IICRC WRT instructor.
"We are excited to have Cara on our team as we expand our offering of water mitigation solutions to help restoration and mold remediation professionals provide rapid response and improve quality of service to their customers," says David Shagott, president of Abatement Technologies.
Jim Anders is responsible for providing technical assistance and sales support for Abatement's line of water clean-up and structural drying solutions. Jim's professional career includes responsibility for national sales of a patented structural drying system to restoration contractors with the goal of expanding the customer base. Additional professional experience includes years as a structural drying specialist, marketing mitigation services to insurance companies and training technicians on using desiccant drying technology. Jim also has sales and account management experience in the high tech field. Jim holds certification in water restoration and structural drying.
"Jim is a restoration professional with extensive experience in large-loss estimating, project management and successfully helping customers grow their businesses in the water restoration industry," notes Dave Shagott.
About Abatement Technologies, Inc.
Since 1985, thousands of water remediation and disaster restoration contractors have relied on Abatement's state-of-the-art equipment and products to provide exceptional performance, quality and value. Abatement continues to lead the way with the design, manufacture and distribution of high-quality solutions for water damage restoration and mold abatement contractors.
Contact:
Gary Kruse, General Manager
Abatement Technologies, Inc.
605 Satellite Blvd.
Suite 300
Suwanee, Georgia 30024
678-889-4200
###