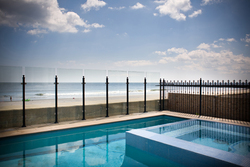 Compass Ironworks was the most conscientious and committed to getting the job done right. I would highly recommend them to anyone who needs to install or repair a railing system, based on their commitment to excellence and pride in their work
Gap, PA (PRWEB) October 15, 2009
Compass Ironworks, experienced Pennsylvania Dutch craftsman, have made a major breakthrough in the metalworking industry by creating a finish that combats the effects of ocean air on metal railings, gates and décor that adorns beautiful waterfront homes.
Since Compass Ironworks crafts metal into beautiful form and lasting function to withstand the test of time, they recently came across a challenge when working with several waterfront homeowners and shore area contractors. The harsh, salt-spray environment near the ocean corrodes and deteriorates the metal that remains exposed on these waterfront properties, including the railings, gates, etc.
Many waterfront homeowners prefer the timeless elegance and rigidity of wrought iron to other metals, but its composition can't withstand the salt-air elements. In order to appease their customers, Compass Ironworks needed to develop a solution. "Some of our clients wanted the same timeless distinction of wrought iron that exists on some magnificent homes that were built over 100 years ago added to their modern homes. Matching this was no problem; the challenge remained to utilize these same metal properties but with a non-corrosive and maintenance-free finish so that they have the same appreciative value 100 years from now," said Amos Glick, owner and craftsman of Compass Ironworks.
The craftsmen use aluminum, which never rusts, and mold it into a sleek and classically beautiful finished product, which has the same look and feel as wrought iron. They were still up against the challenge of erasing the need for continuous maintenance, though - the sanding and painting of railings, gates and outdoor décor to keep the original aesthetic of wrought iron.
The experienced metal craftsmen at Compass Ironworks knew that many proposed solutions to this weathering challenge had failed. So they conducted their own laboratory experiments where their aluminum material finish was cut to the substrate. It then underwent brutal environmental testing known as ASTM B-117, where the finished product was enclosed in a salt-fog chamber for 2,750 hours, comparable to 15 years of actual waterfront exposure. This allowed the salt spray to penetrate under the finish into the substrate, but because the powder coat finish was applied correctly, the aluminum did not delaminate or corrode.
The results of the tests were an amazing eye-opener and allowed them to determine the proper procedure for pre-treating the substrate and applying the epoxy primer and sub-durable topcoat that prevents corrosion and paint flaking and peeling. In order for their solution to stand the test of time, this sophisticated finishing process must be applied to all aluminum handcrafted for waterfront properties. The craftsmen at Compass Ironworks use an in-house pre-treatment and powder-coating system in order to oversee the eight-step finishing process, as they are sticklers for quality control and detail. The eight-step finishing process developed from the environmental test results have resulted in a finished product that has the ability to provide decades of maintenance-free beauty for all Compass Ironworks handcrafted products.
Stan Silverman from the Horizon Venture Group used Compass Ironworks to replace aluminum railings on his waterfront home that had been installed by another company and had corroded after just two years. "Compass Ironworks was the most conscientious and committed to getting the job done right. I would highly recommend them to anyone who needs to install or repair a railing system, based on their commitment to excellence and pride in their work," said Silverman.
In fact, many waterfront proprietors and contractors have been searching for a solution to this challenge for some time. It is especially timely now as repairs and additions are made to waterfront properties as they are closing for the winter season. John Van Duyne, owner of Van Duyne Builders, a custom home building company in Southern New Jersey, has found that the harsh seashore conditions are a challenge. "We are fortunate to have met the craftsmen at Compass Ironworks, whose professionalism is unmatched. Their skilled welding and fabrication combined with their carefully tested finishes allow our customers to have a lifetime railing product. We eagerly recommend them to customers and other builders," said Van Duyne.
Compass Ironworks craftsmen are experienced Pennsylvania Dutch metalworkers dedicated to creating works of art out of metal elements. Their one-of-a-kind, handcrafted work begins with a step-by-step evaluation process. Their old world craftsmanship combined with modern technological advancements and no-cutting-corners policy assures beautiful form and lasting function on all their metal masterpieces. Compass Ironworks also works hand-in-hand with contractors, engineers, designers, and other parties to complete installations on time and on budget.
For additional information on Compass Ironworks or to view samples of their metal works of art that are both beautiful and functional, visit Compass Ironworks.
###