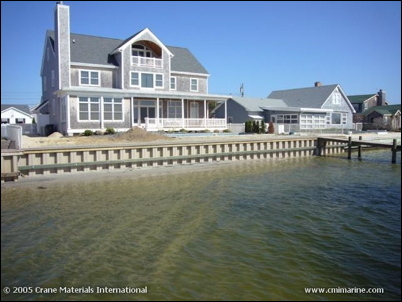 Atlanta, GA (Vocus) May 23, 2007
After 2005 being one of the most active seasons on record, 2006 was quiet comparatively with only 10 named storms compared to 31 the year prior. This dip in activity led many people to put off investing in proper protection for their seawalls or other waterfront barriers. This leads to the typical "out of sight, out of mind" mentality that we use for many different investments.
Mother Nature Back in Action?
The 2007 Atlantic hurricane season should be "very active," with nine hurricanes and a good chance that at least one major hurricane will hit the U.S. coast, a top researcher said recently. Forecaster William Gray said he expects a total of 17 named storms this year, five of them major hurricanes with sustained winds of 111 mph or greater. The probability of a major hurricane making landfall on the U.S. coast this year: 74 percent, compared with the average of 52 percent over the past century, he said. Gray has spent more than 40 years in tropical weather research. He heads the Tropical Meteorology Project at Colorado State.
A hurricane is a severe tropical storm that forms in the North Atlantic Ocean, the Northeast Pacific Ocean east of the dateline, or the South Pacific Ocean east of 160E. The Atlantic hurricane season begins June 1 and ends November 30. The East Pacific hurricane season runs from May 15 through November 30, with peak activity occurring during July through September.
When hurricanes move onto land, the heavy rain, strong winds and heavy waves can damage buildings, trees and cars. The heavy waves are called a storm surge. Storm surge is very dangerous and a major reason why you must stay away from the ocean during a hurricane.
"The greatest potential for loss of life and property related to a hurricane is from the storm surge," according to the National Hurricane Center.
How Exactly Does a Hurricane Damage the Waterfront?
Storm surge is water that is pushed toward the shore by the force of the winds swirling around the storm. This advancing surge combines with the normal tides to create the hurricane storm tide, which can increase the mean water level 15 feet or more. Contrary to popular belief it is not the incoming wave that causes erosion, it is the receding water which pulls everything back out to sea. Because much of the United States' densely populated Atlantic and Gulf Coast coastlines lie less than 10 feet above mean sea level, the danger from storm surge is tremendous.
Water weighs approximately 1,700 pounds per cubic yard; extended pounding by frequent waves can demolish any structure not specifically designed to withstand such forces.
The currents created by the tide combine with the action of the waves to severely erode beaches and coastal highways. Many buildings withstand hurricane force winds until their foundations, undermined by erosion, are weakened and fail.
The following excerpt is from The Louisiana Regional Restoration Planning Program:
Shoreline protection is designed to protect beaches, streambeds, and pond edges from exposure to flooding, wave energy, longshore transport, or wave energy. Most often, wave energy can be dissipated by employing structures such as wave mats, fences, or segmented breakwaters. Flooding and wave energy is often controlled through the use of bulkheads, seawalls, revetments, riprap, or other structures directly adjacent and parallel to the shoreline.
How Do I Prepare?
Though no material is hurricane proof, modern seawall materials such as vinyl, composite (FRP) and aluminum can greatly increase the chances that your property will survive a violent storm. However any seawall material is only as good as the quality of the installation.
Here are some general guidelines you should follow before hiring a contractor to repair or fortify your property:

Do your homework to get an idea of what the project should cost. Then, obtain bids from at least three contractors. Be suspicious of bids that are much higher or lower than you anticipated. Don't accept a deal on the spot.
Try to use a local contractor, especially if you are in an area that is still recovering from last year's hurricanes. Out of town contractors often descend on areas where their services are in great demand. Take the time to research their credentials.
If possible, obtain recommendations from family, friends or co-workers
Make sure the company can complete the work in your time frame by completing a contract.
Before signing a contract or making a deposit, determine that the company is legitimate by checking with city, county, or state licensing departments.
Choose a contractor who has experience installing an entire range of products, including more modern solutions, such as polymer protected timber or vinyl. These materials may lengthen the service life of your docks and seawalls.
CMI Waterfront SolutionsTM
The New Vision of Waterside LifeTM
CMI Waterfront Solutions is the leading choice for marine contractors and engineers across the US and around the world. We offer a complete line of waterfront solutions including seawalls, docks, piers, and gangways. http://www.cmiwaterfront.com
# # #