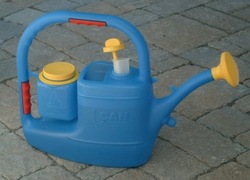 I've been in the business for over forty years and have seen a lot of ideas come and go, but The U CAN is the most versatile www.TheUCanBrand.com [gardening tool] that I've seen yet!
Raleigh, NC (Vocus) September 23, 2009
The U CAN Brand LLC, a new company creating innovative gardening products, today introduced here at booth 521 of the Garden Writers 61st Annual Symposium 2009 enhancements to its "all-in-one" watering can that handily connects watering and fertilizing.
Since the successful introduction of The U CAN Watering System® last month, some product features have been fine-tuned and production has been ramped up to fulfill garden center and online orders for this holiday season.
"In listening to customer feedback, we refined The U CAN even further by texturing the handle and an area below the spout, which will deliver an even more manageable pour especially when watering hanging plants," said Jim Ugone, company president of The U CAN Brand LLC.
One of the first nursery owners to preview The U CAN, Steve Nunan of Nunan's Florist and Greenhouses, Inc. in Georgetown, Mass., said, "I've been in the business for over forty years and have seen a lot of ideas come and go, but The U CAN is the most versatile gardening tool that I've seen yet!" Garden centers open year-round have started purchasing The U CAN in anticipation of holiday gift sales.
The translucent two-gallon capacity watering can conveniently organizes common gardening tasks with an integrated measuring cup and spoon, a place to hold gardening gloves, and a storage post for a removable sprinkler head. The U CAN includes a handy waterproof compartment to store any kind of fertilizer and cleverly reminds the gardener when they most recently fertilized. It is engineered to evenly distribute weight while carrying, lifting and pouring. Rubber grips make handling more comfortable.
The U CAN will be on display at the Garden Writers Symposium from September 23rd-24th. Some of the other features can be seen on the video at the company's website: http://www.TheUCanBrand.com . The company will be accepting online orders for The U CAN, priced at $29.95 plus shipping, beginning in mid-October.
The U CAN Brand LLC was founded in June 2009 by Ugone, president, to innovate and sell affordable, highly purposeful gardening products of excellence. A graduate of the Stockbridge School of Agriculture and The University of Massachusetts, Ugone also earned a master's degree in vocational education from the University of New Hampshire. He taught vocational horticulture for nearly ten years before entering the world of finance. He then began his career of providing financial advice to clients primarily in the green industry, and today remains a passionate gardener.
For more information about the unique all-in-one watering can, contact: Cyndi Deal, Vice President, Finance & Marketing, http://www.TheUCanBrand.com, 978-887-4191.
###