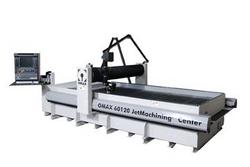 Compute First - Move Later
Kent, Washington (PRWEB) December 13, 2007
The new 60120 JetMachining® Center is the latest addition to OMAX® Corporation's line of precision abrasive waterjets. The large format machine is ideal for quick and accurate cutting of larger or multiple parts from stock up to 5' x 10' (1.5m x 3m).
An innovative traction drive makes the 60120 one of the most accurate large format machines in the OMAX line of JetMachining Centers. The traction drive achieves its high accuracy by closing a positioning loop with linear encoders in the same manner as a linear motor. The result is a robust and reliable system that is well-suited to harsh environments and requires little maintenance. In addition, the traction drive of the 60120 enables faster traverse speeds, which can greatly reduce the throughput times when machining multiple and nested parts.
The OMAX 60120 employs a bridge style Y-Axis design that allows the cutting head to move past the catcher tank for unobstructed loading of materials. Like all OMAX JetMachining Centers, the 60120 has the ability to cut a wide variety of materials, including ceramics, composites, plastic, glass and stone, as well as metals like aluminum, tool steel, stainless steel, mild steel and titanium with an accuracy of motion up to .003".
The 60120 comes standard with OMAX Corporation's patented "Compute First - Move Later" motion control technology, which incorporates Windows® XP software. The system can calculate the velocity of a tool path at over 2,000 points per inch, allowing for complete control over the motion of an abrasivejet, and enabling precise, rapid machining. Other standard features of the 60120 include a durable abrasive feed system, MAXJET® 5 Diamond Nozzle Assembly and an ultra-high pressure direct drive pump.
The 60120 offers substantial productivity gains by eliminating the need for tool changes and complex fixturing, reducing setup times by up to 50% over traditional cutting methods. Its fast cutting speed, combined with minimal set up times, maximizes a user's flexibility and productivity.
Like all OMAX products, the 60120 JetMachining Center comes with the OMAX Technology Guarantee, which provides free software updates to existing customers for the life of the machine.
About OMAX
Headquartered in Kent, Washington, OMAX ® Corporation is the leading manufacturer of precision abrasive waterjet systems. Each OMAX JetMachining® system is powered by the company's innovative control software, bringing affordable abrasivejet technology to an expanding and diverse group of industries, particularly including the machine shop environment. For more information on OMAX products and accessories, contact Sandra McLain at 800-838-0343 or visit http://www.omax.com.
# # #