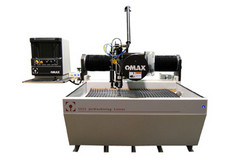 Compute First - Move Later
Kent, WA (PRWEB) December 14, 2007
The 5555 JetMachining Center is the newest addition to OMAX Corporation's industry leading line of precision abrasive waterjet systems. With a footprint of 131" x 95", the 5555 can fit in practically any shop, and is ideal for short-run part production, just-in-time manufacturing, tooling and prototype part development of material sizes up to 5' x 5'.
The 5555 excels at machining a wide variety of materials and thicknesses, and boasts accuracy of motion up to .003''. Additionally, the 5555 does not require tool changes or complex fixturing, reducing setup times by at least 50%. Its fast cutting speed, combined with minimal set up times, maximizes a user's flexibility and productivity.
The 5555 JetMachining Center comes standard with OMAX Corporation's patented "Compute First - Move Later" motion control technology, which incorporates Windows® XP software. The system can calculate the velocity of a tool path at over 2,000 points per inch, allowing for complete control over the motion of an abrasivejet, and enabling precise, rapid machining. Other features on the 5555 include a durable abrasive feed system equipped with the MAXJET® 5 Diamond Nozzle Assembly and an ultra-high pressure direct drive pump.
OMAX believes in manufacturing the best machines and accessories possible with the best software available, and works to continually develop cutting-edge technology and innovative software for its customers. As a result, each OMAX product comes with the OMAX Technology Guarantee, which provides software upgrades for all existing customers at no additional charge.
About OMAX:
Headquartered in Kent, Washington, OMAX Corporation is the leading manufacturer of precision abrasive waterjet systems. Each OMAX JetMachining® system is powered by the company's innovative control software, bringing affordable abrasivejet technology to an expanding and diverse group of industries, particularly including the machine shop environment. For more information on OMAX products and accessories, contact Sandra McLain at 800-838-0343 or visit http://www.omax.com.
###