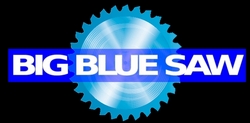 This represents a great opportunity for people to find out about Big Blue Saw's machining services by offering everyone a way to get a free plastic or metal part of their own design
Atlanta, GA (PRWEB) July 23, 2008
Big Blue Saw, a leading online retailer of machining services, announces the first Free Part Day, allowing everyone to receive a custom machined metal or plastic part of their own design. On Free Part Day, August 6, 2008, customers across the Internet will be able to design and create their own custom plastic or metal part.
During Free Part Day, a customer might, for example, order a tailor-made aluminum nameplate, a specialized lifting arm for a hobby robot, or a custom sized plastic decoration. The shape of these parts is limited only by the customer's imagination.
"This represents a great opportunity for people to find out about Big Blue Saw's machining services by offering everyone a way to get a free plastic or metal part of their own design," said Simon Arthur, founder of Big Blue Saw. "We are also proud to present Free Part Day to our loyal customers as a thank-you for their patronage."
Big Blue Saw is on the cutting edge in the new field of digital manufacturing services. Its customers upload their designs for anything their creative imaginations demand: model aircraft, decorative craft tools, robotic rovers, or movie prop replicas; Big Blue Saw then turns the designs into physical parts using robotic manufacturing machines including waterjet and laser cutters. Customers have the flexibility of having their designs come to life in a range of materials ranging from aluminum to stainless steel to plastic.
For more details on how to participate in Big Blue Saw's free part day, visit Big Blue Saw's website at http://bigbluesaw.com.
About Big Blue Saw:
Big Blue Saw is a concept which brings together the Internet and modern computer controlled rapid manufacturing. With Big Blue Saw, customers can upload the design for a part, receive an instant quote, and have the part shipped to them, typically within 3 days. Big Blue Saw's customers include artists, innovative crafters, robot builders, experimenters, and others who need quick fabrication services for their custom designs.
Contact:
Big Blue Saw Telephone: (678) 389-6-SAW / (678) 389-6729
Web site: http://bigbluesaw.com
###