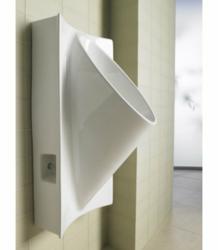 When properly maintained, waterless urinals are completely odor free and absolutely hygienic.
(PRWEB) September 29, 2012
HomeThangs.com – the Home Improvement Super Store has made their goal to deliver the right product to the consumer, with that in mind, shopping and home design tips, as well as special product selections are being introduced.
The concept of a waterless urinal is a relatively new one. The very first versions only became available in the early '90s, and they're only just beginning to really gain widespread notoriety and acceptance. But in a time where water is becoming increasingly scarce – ditching the flush is an excellent way to conserve water both residentially and commercially. Also, waterless urinals aren't some ill-advised attempts at eco-friendliness; they really do mark a significant improvement in urinal design, not just for the planet, but for the user experience.
HomeThangs introduced a guide to educate the consumers and explain how waterless urinals work, and where to look to buy one.
1. The differences between waterless urinals and traditional ones run much deeper than simply cutting off the water supply – the same result cannot be achieved by simply not flushing an existing urinal. Traditional urinals, like toilets, use gravity-driven water to rinse out the basin and wash waste down the drain and through the pipes. But it's actually the chemical interaction of water and urine that creates that funky pee-smell in a bathroom. Because there's no water involved in a flushless urinal, one won't wind up with any gross odors, and the surface of the urinal will typically stay dry (rather than perpetually moist like traditional urinals), which helps combat the growth of stinky and harmful bacteria.
2. Like traditional urinals, waterless ones are shaped to minimize splashing and maximize gravitational pull, ensuring that the basin drains fully after use. However, instead of using a gallon or more of water to ensure that the waste makes its way down the drain, waterless urinals employ special traps that force urine down the drain and keep sewage odors from coming up through the pipes. Most models come with replaceable cartridges that look a little like an average urinal filter once they're installed. They're filled with a blue liquid sealant made of a fatty alcohol that's lighter weight than urine, so it always floats to the top, creating an odor-proof barrier.
3. As the urinal drains, the urine filters through the filter and then the sealant, which removes uric acid to prevent crystallization in the plumbing, and then prevents the urine (or any air from inside the pipes) from finding their way back up the drain. As urine enters the main chamber, the sealant floats to the top, forcing the urine downward through the S-shaped interior and into the plumbing. The shape is designed not only to force urine to drain, but to prevent the sealing liquid from being disturbed, ensuring that, once drained, neither urine nor sewage odors will find their way back out. After approximately 7,000 uses (or four times a year), the liquid will begin to degrade, and the old cartridge can be easily removed, the urinal cleaned, and a new cartridge put into place.
4. One of the largest complaints about this design is that it's a supposedly eco-friendly solution that requires the repeated use and disposal of a plastic component. Kohler's line of Steward waterless urinals addresses this problem, eliminating the replaceable trap while keeping the liquid sealant technology. Basically, instead of having a cartridge, the same shape is built into the urinal drain, the sealing liquid is poured directly into it, and a standard filter is placed on top. The process and functionality is the same, but one won't have to buy (or throw away) any plastic parts – just the liquid. Because there's no cartridge to be removed, the liquid sealant will have to be flushed out with routine maintenance, and be replaced much more often, especially in a residential setting.
5. Maintenance is really the key issue with waterless urinals because upkeep differs from those of traditional urinals. Changing the type of urinal without changing the cleaning methods can have a lot of negative ramifications, from odors to clogged drains to damage to the plumbing system as a whole. In a commercial setting, the maintenance staff should be thoroughly educated on the care and cleaning of the new urinals to prevent problems down the road. As with all urinals, waterless ones should be periodically sprayed with a mild cleaner and wiped down, especially if it is being used in a commercial setting. But more complex biweekly maintenance is required to keep things running smoothly and odor free.
6. While ostensibly waterless urinals are designed not to use any water, the rest of the plumbing probably isn't. Because urine is mildly acidic, if it's left undiluted in the pipes for long periods of time it can corrode all the way through certain types of plumbing. To prevent this, the system should be flushed thoroughly with hot water once every two weeks. Each manufacturer will have their own set of instructions (these happen to be for American Standard's Flowise waterless urinals), and accompanying cleaning products, replacements, and refills, but typically one gallon of hot water has to be poured into the urinal as quickly as possible without overflowing, then the cartridge has to be removed (if any), another gallon of hot water poured in the same way, then the cartridge or sealant has to be put in place. This washes away any lingering urine or crystallized uric acid, as well as any degraded sealing liquid before it can build up or do any damage to the plumbing.
When properly maintained, waterless urinals are completely odor free and absolutely hygienic. They work equally well in commercial and domestic applications. Waterless urinals are an excellent way to cut down on water consumption, and reduce that awful bathroom smell.
HomeThangs.com is not only a home improvement superstore, it also provides expert design tips and a comprehensive shopping guide, taking the ideas from professional interior designers, and offering tips to the consumers on how to pick the products to best suit their needs.