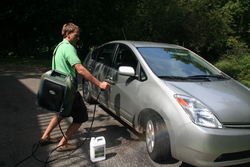 Portsmouth, NH (PRWEB) November 3, 2009
When water shortages or calls for sustainability lead to car wash bans, municipalities and fleet managers can be left high and dry. Eco Touch, a pioneer in earth-friendly waterless car wash and detailing products, introduces two products that team to make green fleet washing a reality.
The Portable Waterless Car Wash System consists of Eco Touch Waterless Car Wash Concentrate and a portable sprayer that gives users the ability to clean multiple vehicles quickly and effectively with minimal water consumption and without toxic runoff. The portable sprayer uses only 6 - 10 oz of formula per vehicle, depending on the dirtiness and size of the vehicle. Eco Touch Waterless Car Wash concentrate is non-toxic, biodegradable and phosphate-free.
Jordan Gauvin, co-owner of New Hampshire-based Wicked Clean LLC, says, "The Eco Touch Portable Waterless Car Wash System has been a great way to expedite the cleaning process. We can give a car a quick exterior cleaning and polishing in 15 minutes while preventing thousands of gallons of contaminated water from entering waterways untreated."
The Portable Waterless Car Wash System is available in 3 packages that consist of the portable sprayer and Eco Touch Concentrate. Prices start at $249 for the 30-vehicle system which includes a portable sprayer and 16 oz of Eco Touch Concentrate. The 250-vehicle system sells for $349 and includes 1 gallon of Eco Touch Concentrate. The 1,000-vehicle system sells for $699 and comes with 5 gallons Eco Touch Concentrate.
Each portable sprayer comes with an 18v re-chargeable battery and charger, 12v auto plug, 20' tangle-free hose and adjustable nozzle, padded shoulder strap and water filter. The 3.5 gallon tank holds enough Eco Touch Waterless Car Wash to clean between 50 - 75 vehicles. The user simply sprays the formula on the car one panel at a time, including windows, then wipes clean with two microfiber towels. The first towel safely removes surface contaminants and the second dry towels leaves a smooth and protected surface. The formula is safe on the car's finish and will not scratch.
With a commitment to transparency, Eco Touch is the only earth-friendly car care manufacturer that lists functional and scientific ingredients on its packaging and MSDS sheets. Eco Touch believes consumers should be able to make an informed decision about environmentally friendly products based on full disclosure.
For more information about the Eco Touch Portable Waterless Car Wash System, visit the company's website at ecotouch.net or call 603.305.5747.
Eco Touch offers consumers a complete line of car care products that are non-toxic, biodegradable, and free of synthetic fragrances and dyes. The Eco Touch line includes eight products: Waterless Car Wash, Dashboard Protect, Carpet + Upholstery, Metal Polish, Window Clear, All Purpose, Microfiber Towel Pack and Portable Waterless Car Wash System. Eco Touch products are available online at ecotouch.net, Amazon.com, Detailing.com or in specialty stores.
###