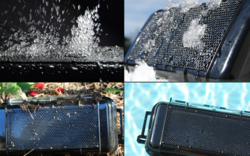 Atlanta, GA (PRWEB) November 20, 2012
AudioActiv™ launches The Vault™; a functional case for Jambox™, FoxL™ or Braven SIX™ series Bluetooth® speakers. The Vault safeguards portable speakers from water, dirt, sand and snow, while transmitting crystal-clear sound through a patent-pending technology called AudioClear™. Active lifestyles are liberated with a simple and affordable case that takes speaker portability to an entirely new level.
Portable Bluetooth speakers have quickly become a popular product, but no design has balanced a great look with unlimited outdoor usability. The Vault enables consumers to continue listening to high-end wireless speakers while at the beach, on a hiking trip or skiing down a mountain. The case transforms a Jambox, FoxL or Braven Six series speaker into a portable music player with a balance of tough, rugged durability and sleek, polished design.
"The Vault allows you to listen to your music everywhere, without worrying about destroying, denting or even scratching your high-end speaker," says David Sanborn, President, AudioActiv, LLC. "Our AudioClear™ acoustic technology delivers an extreme level of protection and all the sound you expect from your device."
More information on The Vault can be found at: http://www.audioactiv.com/thevault
Price: $59.99
Features:

Water, dirt, sand, snow and impact protection
Excellent sound transmission
Durable, ruggedized exterior
Advanced, acoustic venting technology
Secure, cushioned interior
Multiple attachment points
When purchasing the perfect gift for the holidays, The Vault is a unique and useful present for individuals who want to Take Music Everywhere™.
About AudioActiv
Based in Atlanta, AudioActiv is a company devoted to enabling avid music listeners to take their music on the go. Originally started as a simple idea to ensure a Jambox would survive the beach, AudioActiv's The Vault transformed into a differentiated case system. Go AudioActiv.