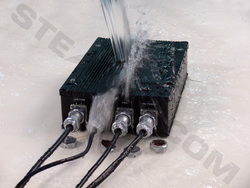 We are very proud and honored to receive this award from Control Engineering. A total of 96 products were submitted and this illustrates our 20 year commitment to our automation and control customers
Toronto, Canada (PRWEB) February 2, 2010
Stealth.com Inc. (Stealth Computer) a leading ISO 9001 manufacturer of industrial rugged computers and peripherals has won Control Engineering's 2010 Engineers Choice Award for its WPC-500F harsh environment fanless computer. Control Engineering is a Chicago based trade publication and part of Reed Business Information, a leading global provider that publishes over 400 business-to-business magazines. The award was officially announced February 1st, 2010.
Control Engineering 2010 Engineers Choice Awards highlight some of the best new control, instrumentation and automation products introduced in 2009 as chosen by Control Engineering's print and online subscribers. Survey respondents were asked to select products based on technological advancement, service to the industry, and market impact.
The new Stealth WPC-500F is a rugged PC that is completely water-tight, surviving liquids, chemicals, dust and dirt intrusion, meeting IP67/NEMA 6 environmental specifications. It can be connected directly to machines, control panels, operator stations, etc., without the added expense of extra cabinets and locating computers in a special room away from the production area.
Designed without cooling fans the internal CPU is cooled through advanced heat pipe technology. The rugged aluminum chassis also acts as a heat sink to dissipate internal heat and provide noise free operation. The Stealth WPC-500F computer is built with industry standard technology and is fully compatible with today's standard hardware/software platforms.
"We are very proud and honored to receive this award from Control Engineering. A total of 96 products were submitted and this illustrates our 20 year commitment to our automation and control customers", remarked Ed Boutilier, Stealth.com Inc. President & CEO
About Control Engineering (Reed Business)
Established in 1954, Control Engineering is a magazine for engineers in all industries who buy, specify, design and maintain automation, control and instrumentation devices, networks, systems, and software for automated process, manufacturing, and hybrid solutions. Additional content is also published daily on the web and weekly in electronic newsletters.
About Stealth
Founded in 1990 Stealth.Com, is a leading manufacturer of specialized Computers and Peripherals. The company is ISO 9001 registered and continually develops innovative products designed to meet the exact needs of their clients. For two decades Stealth has provided thousands of proven reliable product solutions that have assisted clients with a myriad of applications. Our impressive customer base includes a wide range of customers from single man operations to Fortune 500 companies, Military installations and Governments worldwide. http://www.stealth.com
###