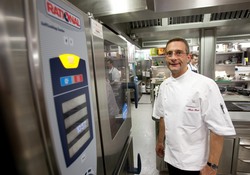 This was an exciting opportunity for us to put in the very latest technology
(PRWeb UK) September 12, 2009
World class restaurants deserve world class refurbishments, so it's no surprise that the three Michelin star The Waterside Inn at Bray, near Windsor, has just spent £1.5million on its new kitchen. The last major refurbishment was about 25 years ago. This time, the scale of the operation was such that The Waterside Inn was shut for almost 4 months.
"This was an exciting opportunity for us to put in the very latest technology," explains Alain Roux, Chef Patron of the Waterside Inn. "We are a family business, so investing in the kitchen is like investing in our home. Each piece of equipment is important to us, it's an extension of the chef's personality – the way he expresses himself.
"The new kitchen is a dream come true. It gleams with stainless steel and has put a smile on the faces of everyone who works here."
One kind of new equipment in particular has especially impressed Alain Roux - the Rational SelfCooking Center. In fact the kitchen has no fewer than three of the latest model of SelfCooking Center - two small six-grid models being used for general cooking and a bigger ten-grid model exclusively for bread and patisserie.
"I really wanted to get Rational SelfCooking Centers in our kitchen," says Alain. "They are so highly praised by chefs and by all the best catering schools in the UK. I've seen them in use and tried them out before but it's great now to have them up and running in my own kitchen.
"Rational's whole approach is unique. The humidity and temperature control is so precise. It allows us to be more confident with timing; everything cooks right through, even with larger quantities."
The precision is what has really impressed Alain. With the Roux style of classical French cooking they have relied on the chef's experience to judge how long dishes will take and when they will be ready. But now, using the SelfCooking Center's intelligent cooking modes, they find that the unit cooks on its own, fully automatically.
"It's much better this way," he enthuses. "You can't fault it. If something goes wrong with the dish, it's not the oven it's the chef!"
The Rationals are proving particularly useful for vacuum steaming in braised dishes and confit of lamb, duck and beef. Previously they used a bains marie for this type of cooking and had to constantly monitor what was going on.
"There are many more advantages to cooking with the SelfCooking Center," says Alain. "It's so versatile. It can operate with both dry and moist heat, or a combination of both, and the temperature control is fantastic. But we're still experimenting and finding out exactly what we can do. It's great for developing new recipes."
Another aspect that has impressed everyone in the kitchens at The Waterside Inn is the CareControl cycle in the latest SelfCooking Center. CareControl means that the combis never need descaling, don't need water filters and clean themselves automatically - but only when necessary.
"Cleaning is not my favourite activity," says Alain. "When you've been cooking all day the last thing you want to do is clean the oven. But with the SelfCooking Center it does it all itself. All we have to do is pop in a couple of tablets and press a button.
"The CareControl cycle keeps the SelfCooking Center so clean that visitors to the kitchen often think we haven't used it yet. It's a miracle!"
For information and brochures, or to arrange to come to a free SelfCooking Center® 'TeamCooking Live' seminar, contact your dealer, freephone Rational UK on 0800 389 2944 or call +44 800 389 2944. For product information and contact details see http://www.rational-UK.com
Press Enquiries:
Toni Turner or Alison Haynes at The Publicity Works: 01263 761000; Email: rational@publicityworks.biz
Vic Brown at Rational UK: 01582 480388
More information on Rational UK from http://www.rational-UK.com
'SelfCooking Center' and 'TeamCooking Live' are registered trademarks of Rational.
Separations charge enquiries: offers can only be accepted by fax on 01263 761009.
All offers are considered. We will call you if the answer is 'yes'. Otherwise the answer is, regrettably, 'No'.
###