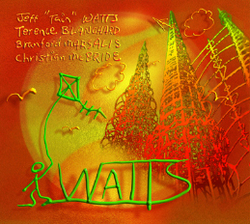 ..."a kind of pure, extremely musical percussion. He spends time inside rhythmic patterns that are complex but not flashy; he sounds as if he's knocking down the formalized patterns of jazz drumming and starting from scratch." -New York Times
New York, NY (PRWEB) July 20, 2010
Among the 200 films in competition at this years event is a uniquely creative music video created by the artists at Resobox and Sulphurbath Productions studios in collaboration with Jazz musician Jeff "Tain" Watts and Laura Kahle. A broad range of methods & styles were applied in the creation of this video, with each technique flowing in and out of one another in tandem with music to deliver a seamless Jazz experience on screen. Some of the elements in the video include stop-motion animation, chroma keying, original digital backgrounds, motion graphics and video footage shot throughout New York.
Competing in the Music Video category at the New York International Independent Film & Video Festival, "The Return of the Jitney Man" will be screened Friday, July 23rd 2010 in the 10:00 PM EST at City Cinemas Village East, New York, NY
"The Return of the Jitney Man" is the beginning track on the acclaimed 2009 album "Watts" by Jeff "Tain" Watts. This track and the album, also feature Terence Blanchard, Branford Marsalis, and Christian McBride. The album has received international praise among the Jazz community, and Terence Blanchard won a Grammy for Best Improvised Jazz Solo on track 5 "Dancin' 4 Chicken". Jeff 'Tain' Watts earned an award at the 2009 International Songwriting Competition (ISC) for his work on the track "The Devil's Ring Tone" - selected 1st Place in the Jazz Category. ISC has the most prestigious panel of judges of all the songwriting and music contests in the world, and is the #1 song contest for songwriters.
About Jeff 'Tain' Watts
Jeff "Tain" Watts holds the unique distinction of being the only musician to appear on every Grammy Award winning jazz record by both Wynton and Branford Marsalis. A true jazz innovator, Watts never fails to deliver the percussive magic that has been his trademark since his emergence on the contemporary jazz scene. For more information on Jeff 'Tain' Watts, visit his website.
About Sulphurbath Productions & Resobox
Fumio Tashiro (a.k.a 'Bomb Sun') is a professional musician and artist who plays upright bass and creates original musical compositions. He has a solid background in jazz and experimental improvisation, and as a student of the upright bass studied under his mentor Milt Hinton. He currently resides in New York City. For more information, visit the Resobox website
Miho Morita is an artist, graphic designer, painter, performance artist, and furniture designer. She works classically having been trained at Musashino Art University in Tokyo and has a portfolio that includes gallery exhibitions, commissioned work, album cover art, and music videos. She currently resides in New York City. For more information on Miho Morita's Artworks, visit her website.
Mike Wilson owns & operates Sulphurbath Studios in New York City. He is a video artist, director, and editor and has produced short films, music videos, animations, and DVDs. For more information, visit the Sulphurbath Productions website.
Media release & distribution provided by Click Revolver Internet Marketing Solutions.
###