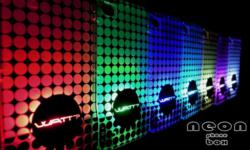 By far the most innovative phone case of the year ( CES Las-Vegas 2013)
Around the world (PRWEB) June 05, 2013
WATT? is coming ? A new brand, a new product and a new web store are about to launch ...
WATT? is an exciting new brand offering exclusive, patented products that are the brainchild of a group of young engineers and designers dedicated to a single innovative dream... to make the world a cooler place. WATT? products are manufactured by WATT? and are only available on the company's e-store: http://www.wattonlinestore.com. "After our success at CES Las-Vegas, we werent sure how to proceed to show our products and ideas ,finally we decided to sell exclusively on our e-store ."
The "neon phone box" is a creative protective case designed to enhance the iPhone user experience. This original new accessory is being introduced to celebrate the launch of the WATT? brand and its online store.
The neon phone box allows to select a single glowing color from the seven available on board using LED technology. Don't have a favorite color? No problem, select the option to have the neon phone box change from one color to another in an almost hypnotic progression through all seven colors. Alternately, one of three effects can be used to progress through the colored neon-like glow: auto flashing, auto fading and auto fusion.
The neon phone box is an exclusive phone case with unique features and many designs choices. Elegance, choice of materials, latest printing process (IML) offer the ideal balance of sharp graphics, fancy textures and scratch resistance.
With the neon phone box, go from black and white to color with a simple click or set it to stand by mode and it will light up when signal detected : calls, text messages, etc. (signal detection accuracy depends on networks).
The neon phone box has the longest lasting battery available but it still needs to be recharged. Recharging is both quick and easy using the USB cable found in the product box. Connect the neon phone box to a computer or phone charger using the USB cable.The unit flashes red when charging and green when fully charged.
Clear instructions on the use of the neon phone box and how to recharge it are printed on the product box.There are also short video tutorials and PDF downloads on the WATT? online store at http://www.wattonlinestore.com.
The neon phone box for iPhone 4 /4S and iPhone 5 is a fun, attractive and innovative accessory that will quickly become the "must-have" product from day one of its launch; WATT? unique products meant to provide a sweeter a life !