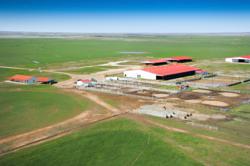 Waurika Farms is an expertly designed and efficient 21st century stocker cattle operation.
Waurika, OK (PRWEB) March 13, 2012
Waurika Farms, a 7,000+ acre beef production outfit located in southern Oklahoma, is currently scheduled to be auctioned Thursday, April 12th at 1:30 PM CST at the Waurika Farms Headquarters. This nearly all contiguous farm can run between 8,000 and 10,000 head of stocker cattle annually. For more information on this Oklahoma farm auction contact Scott Shuman, head of Hall and Hall Auctions at 1-800-829-8747 or John Wildin, Broker, at 620-662-0411, or visit http://www.hallhall.com/auction-services.
"Waurika Farms is an expertly designed and efficient 21st century stocker cattle operation," said Shuman. "The property has produced over 2 million pounds of beef annually."
Fifty miles west of Interstate 35 and roughly six miles southeast of Waurika, this 7,000+/- acre farm, 1,000 acres of which is private leased land of native grass, consists of approximately 3,300 acres of wheat land with the balance of about 2,700 acres in mostly Bermuda grass and native species. The wheat is grazed from mid-November until early-June.
Created to maximize beef production in the most efficient way possible, the property includes 30 miles of new fence laid out to accommodate cattle movement with a minimal number of employees. There is excellent livestock water (over 60 ponds) in the wheat traps and the grass traps.
The property consists of a modern headquarters with a good set of pens and scales, a 28,000 sq. ft. shop building, a covered arena, an outdoor working arena, and the owner's home. There are five other working pens and two other sets of scales on the farm.
Another important fact is that this farm is situated in an area that qualifies it for an accelerated depreciation schedule. The owner estimates that there are around $5.5 million worth of depreciable assets on the farm.
Showings of the property are available by appointment. Information dates are scheduled for Wednesday, March 21st and Thursday, March 29th from 1-4 PM CT. Contact Shuman for more information at scott(at)hallandhall(dot)com or 800-829.8747. The full brochure can be downloaded here: http://hallhall.com/pdf/summaries/waurika-farms-flyer.pdf
About Hall and Hall:
Hall and Hall was formed in 1946 as an agricultural mortgage company, and has since branched out into farm and ranch brokerage, auctions, appraisals, resource management and enhancement, retained search, and consultation on conservation easements and stewardship plans. Hall and Hall has emerged as the largest full service rural real estate firm in the Rocky Mountain West and Great Plains regions, managing more than 1 million acres of land, and servicing a loan portfolio of more than $400 million. A unique partnership between its offices in Montana, Wyoming, Idaho, Texas, Kansas, and Colorado ensures that the client receives local knowledge and personal service as well as the international perspective needed to make informed acquisition and management decisions.