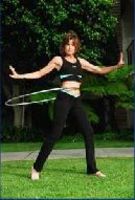 It is my life's passion and dream to get everyone in America up off the couch and hooping, in effort to help combat the ever growing childhood obesity epidemic
Los Angeles, CA (PRWEB) January 31, 2008
Jean Hooper, America's Favorite Hooper, has been named the official Hoop spokesperson for Maui Toys, the world's largest manufacturer of spring toys. Ms. Hooper, better known as Hoop'n with Hooper, is renowned for her "Fitness made Fun" program that teaches kids and adults how to get fit and be active with her "easy to learn" dance routines using the Wave Hoop®, a revolutionary water weighted hoop made by Maui Toys.
Hooper began her relationship with Maui Toys in 2001 when she asked them to help support the burst of interest in her hooping classes. At the time, she had too many hoopers and not enough hoops. Maui Toys was impressed by her enthusiasm and agreed to provide Hooper with Wave Hoops. In return, Hooper attended Maui Toys' annual Las Vegas sales meeting to involve their sales associates in the fun and great benefits of hooping. Hooper's unique mastery of the hoop prompted Maui Toys to name her their official Hoop spokesperson in Jan. 2008.
According to Hooper, "Wave Hooping is an amazing form of exercise, and is so much fun you don't even realize that you're working out! Based on the principles of fluid dynamics and centrifugal force, the Wave Hoop® is integrated with water inside the hoop which works as a counter balance, causing the hoop to stay up in motion longer with little to no effort. This makes hooping easier than ever, and allows me to teach people who could never hoop before," Hooper explains.
To date, Hooper has successfully taught over 200,000 elementary, junior high and high school students, in all eight districts of Los Angeles, through the Los Angeles LAUSD Nutrition Network Program, a Non-profit organization that promotes a healthy active lifestyle for kids in the underserved communities. "It is my life's passion and dream to get everyone in America up off the couch and hooping, in effort to help combat the ever growing childhood obesity epidemic," Hooper says. Hooper recently lead a brigade of "Happy Hoopers" Kid Cadet" students in the 31st "Occasional" Pasadena Doo Dah Parade. She has appeared on CNN, ABC, CBS, KCAL and more and has been written about in magazines such as Cosmo Girl and Photographic.
About Maui Toys
Maui Toys, Inc. was founded in 1988 by Brian D. Kessler who sought to bring vibrant fashion, versatile function and evolving style together to set a standard for unique toys in a competitive market. Maui Toys catapulted into the toy industry spotlight with the worldwide patented Wave Hoop®. Integrated with water to make hooping easier than ever before and covered in striking colors and eye-catching designs, the Wave Hoop® broke Maui into the forefront of the toy market. As a manufacturer and distributor of spring and summer activity toys worldwide, their core business is outdoor sports related toys that encourage children to be active.
Maui Toys leads the competitors with a wide range of Impulse Toys that add the magic of light and sound to a variety of nostalgic toys from our past. With an innovative design, tenacious sales and creative marketing team, Maui Toys continually endeavors to stay one step ahead of the competitors. While Maui Toys accomplishes making the life of a child as childlike as possible, spinning Wave Hoops® forever around their hips, the company also finds a way to make the child feel as cool as a grownup 'tricking out their ride' with sweet, new ways to be the talk of the block. Maui Toys corporate headquarters are located in Youngstown, Ohio with sales in Los Angeles, California, and an office in Hong Kong.
Websites
For more information about Jean Hooper visit http://www.hoopngroove.com
For more information about Maui Toys visit http://www.mauitoys.com
###