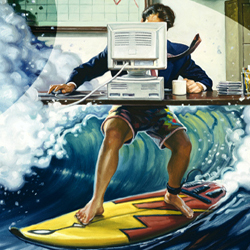 Wavecrest Computing's filtering technology is designed to intelligently filter Web traffic based on a three-layer approach.
Melbourne, FL (PRWEB) March 2, 2010
Wavecrest Computing, an industry leader in Web-use management, recently released new versions of their Cyfin and CyBlock Internet filtering and monitoring products. These latest versions include a new Dashboard Management Console, providing organizations access to actionable Web-use charts at their fingertips. Wavecrest has always offered the best reporting in the industry, and with their new Dashboard, Wavecrest has developed what is no doubt the next generation of Web-use reporting. Their new Dashboard provides several top and trend charts, but the most exciting feature with the Dashboard charts is the ability for managers to compare a user's Web activity to that of his/her department's or the entire organization's Web-use average. This makes it easy for managers to spot whether a user's Web activity is above or below that of the average and quickly decide if further investigation is needed.
With the new Dashboard came enhancements to the Wavecrest Data Warehousing design. This included adding support for MySQL and SQL Server. Wavecrest's Data Warehouse is designed to store and manage the growing amount of Web-use data down to each individual URL. Wavecrest's unique design provides organizations with products that are scalable, can store mass amounts of data, and offer the ability to extract Web-use data quickly.
Throughout its 14 years of business, Wavecrest has continued to stay a step above the competition, not only with their ability to store mass amounts of data and provide actionable reports, but also by providing reliable and comprehensive filtering coverage to businesses with their RealTimePlus process. Dennis McCabe, Wavecrest's VP of Business Development, explains, "Our filtering technology is designed to intelligently filter Web traffic based on a three-layer approach. It involves real-time filtering with deep packet analysis, a URL control list and customer-defined categories." A multi-layer approach is vital to keeping up with the ever-changing Web and Web 2.0 technology.
To enhance their filtering and monitoring even further, Wavecrest complements their products with their superior support services. These include phone and email support, product upgrades, daily control list updates, product documentation, personalized categorization service and more. Both customers and evaluators are always impressed with the knowledge of Wavecrest's support and the quick response that comes with it. CGI, a customer of Wavecrest states, "We were impressed with the speed that Wavecrest's support staff and developers were able to understand our issue and fix it." It is this type of unmatched service that has made Wavecrest stand out above its competitors.
About Wavecrest Computing
Founded in 1996, Wavecrest Computing is a recognized B2B leader in policy-based Web-use management solutions. The company's products are relied on by IT personnel, HR professionals and business managers around the world to proactively address issues of Internet abuse, legal liability, security threats, workforce productivity and misuse of bandwidth. Wavecrest has been profitable since 1997, and sales have increased steadily since then. Among our more than 3,000 clients are Procter & Gamble, Lockheed Martin, HP, Volvo, British Telecom, Edward Jones, Blue Cross/Blue Shield, IBM, Burlington Northern Santa Fe Railway (BNSF) and a growing list of global enterprises and government agencies.
###