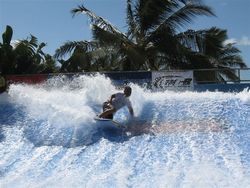 With a 13-city tour the competition will be fierce and fun
San Diego, Calif. (PRWEB) June 13, 2008
Once again, Wave Loch® and Royal Caribbean International® are teaming up for the third Annual Wave Loch Flow Series. The national competition will bring together the best flowboarders, bodyboarders, and drop knee riders in the country. The competitive Flow Series kicks off on Saturday, June 14 in Collinsville, IL and will run all summer long ending on September 6 with the championships in San Diego, CA at Wave House. Anyone interested in competing can go to the newly launched Wave the Planet web site to find out the location nearest them and get more details. Most entrance fees include practice time on the FlowRider®, t-shirt, and prizes. The competition is open to all ages and genders. No experience needed to enter.
The Wave Loch Flow Series will consist of 13 city stops with local "flow" heroes across the nation coming to a venue/city near you. The competition will stop in Illinois, Florida, California, Oregon, Missouri, Utah, Hawaii, Minnesota, Idaho and Pennsylvania. Athletes will vie for titles in flowboarding, bodyboarding, and drop knee divisions.
"We're excited to team up with Royal Caribbean and showcase the sport of Flowboarding to athletes around the country," said Wave Loch owner Tom Lochtefeld, who created the FlowRider and the Bruticus Maximus Flowbarrel®, a 10-foot high barreling wave competitors will need to tame to win the title. "With a 13-city tour the competition will be fierce and fun," Lochtefeld said.
Winners from the selected venues will be awarded round-trip tickets by Wave Loch to compete at the National Championship on September 6 at Wave House, San Diego. The top flowboarder and bodyboarder winners will receive a seven-night cruise to the Eastern or Western Caribbean on one of two Royal Caribbean Freedom-class cruise ships, Freedom of the Seas and Liberty of the Seas. Freedom-class ships are the only cruise ships in the world to offer surfing onboard.
Royal Caribbean's Freedom-class ships share the title of the largest and most innovative cruise ships in the world, and feature exclusive onboard amenities, including the FlowRider®, the H2O Zone water park, an ice-skating rink, 11-route rock-climbing wall, a full-size basketball/sports court, and a boxing ring among 12,000 square feet of modern equipment in the fitness center. Guests can relax by one of three pools and take a dip in the cantilevered whirlpools, another exclusive Royal Caribbean amenity located in the Solarium adults-only pool area. Each Freedom-class ship also offers guests more than 15 bars and lounges, eight restaurants, including a Johnny Rocket's® and the line's signature Chops Grille Steakhouse and Portofino's Italian Ristorante, and complimentary room service 24 hours a day.
Wave House is located at 3125 Ocean Front Walk, Mission Beach, California in Belmont Park.
About Wave House®/Belmont Park
Located on the boardwalk in the heart of San Diego's Mission Beach, Wave House is a key component in the revitalization of Belmont Park, a seven-acre beachfront commercial/recreational development that offers the quintessential California experience for locals and visitors alike. In addition to the Bar and Grill, adjacent Wave House® elements include: the Wave House® Athletic Club with its state-of-the-art gym equipment and FlowRider® sheet wave attraction, the historic Plunge swimming pool and advanced mind/body classes, such as Yoga and Bosu training; a historic amusement park with seven attractions, including the Giant Dipper Roller Coaster.
About Wave Loch®
Wave Loch is owned by creator and entrepreneur Tom Lochtefeld, a native of La Jolla, CA. Wave Loch® is the leading designer of engineered waves and ride vehicles worldwide, including FlowRider®, FlowBarrel® and the flying reef.
About Wave Loch's Bruticus Maximus
Affectionately known as the 'B-Max', this beast uses 800 horsepower and 120,000 gallons of water to create a perfect 10' barreling wave. Water is propelled to a speed of 25 miles per hour, which flowboarders ride and pull off maneuvers unimaginable on an ocean wave. See the WAVE LOCH web site for information.
About Royal Caribbean International®
Royal Caribbean International is a global cruise brand with 21 ships currently in service and two under construction. The line also offers unique cruisetour vacations in Alaska, Asia, Australia, Canada, Europe, South America and New Zealand. For additional information or to make reservations, call your travel agent, visit http://www.royalcaribbean.com or call (800) ROYAL-CARIBBEAN. For travel professionals, go to http://www.cruisingpower.com or call (800) 327-2056.
###