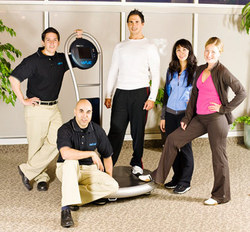 The most important part of buying the WAVE is the support afterward. A customer can be comforted in the fact that they will have information that can be personalized to their own goals
(Vocus) September 3, 2009
WAVE (Whole-body Advanced Vibration Exercise) launched an interactive website today for all customers who have purchased their products. The WAVE CLUB will assist users that purchase a WAVE vibration machine by proving them with pages of rich information and videos to help them reap the full benefits of their product.
"The most important part of buying the WAVE is the support afterward. A customer can be comforted in the fact that they will have information that can be personalized to their own goals," says WAVE's Vice President of Clinical Services, Dr. Jasper Sidhu. "The WAVE Club enables our customers to get total health and wellness solutions, helping them stay on the path to reaching their goals."
The WAVE CLUB includes a full exercise database, instructional videos, informative articles and access to The WAVE Health Portal, which provides nutrition plans. Each WAVE customer receives a username and password to access their account, making it exclusive to buyers only. This is an added incentive for consumers and businesses to purchase WAVE's revolutionary vibration exercise machines.
"The WAVE CLUB is an excellent way for our customers to know that they always have our support," says WAVE's CEO, Harmeet Kuner. "The WAVE CLUB is there for them every step of the way as they become more familiar with our innovative vibration exercise products."
About WAVE Vibration Exercise:
WAVE vibration technology gives you an hour of results in only 15 minutes compared to regular strength training. The movement of the vibration platform simulates involuntary muscle contractions through the body's natural stretch reflex to help you tone up and slim down. This new exercise device works by recruiting more muscle fibers while increasing strength and the metabolic rate. From busy professionals, aging boomers, athletes to those that can't handle the stress and time constraints of regular exercise, the WAVE provides the ideal health, beauty and fitness solution.
WAVE Manufacturing Inc. is a North American company that specializes in the manufacture, education, research and training in vibration technology.
For more information on WAVE please visit us on the web at http://www.wavexercise.com.
###