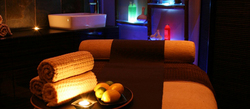 (PRWeb UK) April 14, 2010
Spring is officially here and now that the clocks have gone forward, the evenings are longer and like the light at the end of a long, dark and rather snowy tunnel, summer is within sight. And this means losing the tights and coats, removing the hat and gloves, tying hair back off the face... It's at this point everyone realises how much they're in need of a visit to a beauty salon for some post-hibernation pampering.
Many people neglect their bodies over the winter months, ditching healthy eating and beautifying in favour of throwing on a big woolly jumper and tucking into comfort food, usually in the shape of stodgy dinners and chocolate. This seems like a good idea at the time - but then it's suddenly March, and they notice they're not exactly prepared for the skimpy clothing, sunny holidays and sandals that the summer months bring.
If this sounds familiar, don't panic! Kuno Tierra London Spa is here to help and is now offering a very special 15% off any treatments when booking a treatment.
Nestled in a tranquil area just off Regent Street, Kuno Tierra is a hidden gem, tucked away out of the hustle and bustle of the West End. While the luxuriously decadent spa prides itself on being the choice for celebrity clientele, it offers a discrete, welcoming service and has many loyal regular customers that return again and again to experience the top-class service. What's more, the spa totally understands that many people are more in need that usual at this time of year - and are happy to do all they can to prepare customers for the summer, with the most luxurious and enjoyable manicure London has ever seen, spa waxing, and superb range of spa body treatments from cellulite therapy to a deep cleansing seaweed wrap.
One of Kuno Tierra's favourite treatments, and unique to the spa, is the Brightening Oxygen Facial. This intensive 75 minute treatment includes exfoliation, a fruit acid wash, and a calming oxygen mask, which work together to revitalise tired skin and leave one with a fresh-faced and youthful appearance, perfect for showing off in bright sunshine. The treatment has been developed by the spa's own therapist Verity Smith, who has worked on TV shows such as GMTV, 10 Years Younger and This Morning, and it has become known as the best oxygen facial in London.
Kuno Tierra is also proud to present itself as offering the most innovative waxing London has to offer. Specially developed to be as pain-free as possible, their delectably-scented wax is smooth and creamy and smells good enough to eat: choose from Chocolate Crème, So Yummy Berry and Lavender. It is designed to leave as little redness as possible, and prevents ingrown hairs. No wonder the spa are 'waxing lyrical' about it! The therapists employed at Kuno Tierra have many years' experience and are impeccably trained at the spa.
If all this sounds like a good idea it's easy to resist the chocolate egg and spoil oneself with a healthier, but no less indulgent, Easter treat. Kuno Tierra is offering London spa vouchers so that anyone can enjoy the luxury with a very generous 15% off any treatment. Just contact the spa and quote 'PR Web' to receive the discount before booking. There's no better way to feel sun-shiny and new in time for summer!
Feel free to phone Kuno Tierra's Mayfair spa on 02034111987 or contact the Chelsea spa on 02034111986. Alternatively, enquire online just log onto http://www.kunotierra.com and browse the treatments.
###