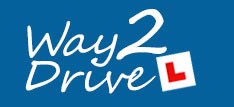 The UK's leading Driving School directory.
UK (PRWEB) August 14, 2013
Way2Drive has launched an innovative new service which helps new learner drivers locate a good driving school in their local area. The website also provides learners with all of the information they need about learning to drive, apply for a driving license, as well as hints and tips about the theory and practical driving examinations.
Learning to drive a car is a new chapter in someone's life, but it can often be difficult when it comes to choosing the right driving school to learn with. Sometimes, it may be the case that there aren't any well-known or suitable schools in the local area, or that those that are well-known are just too expensive. Way2Drive aims to help new learner drivers out by providing a one-stop destination for information related to local driving schools, along with extras such as giving tips on how to get through the driving tests and how to apply for provisional and full driving licenses.
By completing a short and simple driving school locator form on the Way2Drive website, learner drivers can locate the most suitable driving school in their region just by providing their post code or town, city or county. Learners can also locate a driving school by typing their name – good if they have had a personal recommendation from somebody. The website has a huge database of all the prominent driving schools located across the UK.
Elaborating more on how the Way2Drive service can help new learner drivers, the managing partner of the company was quoted as saying - "You can use our site in a number of ways to find driving schools and instructors in your town or city. Use the search form on the left and enter your post code, town/city/county or a specific driving school if you already know their name."
Apart from helping learner drivers in locating an affordable and quality driving school, the website also helps them learn all about applying for their provisional driving licenses. Not only is a driving license necessary to start driving on UK roads, but it also comes with many other added benefits. Talking more about the advantages of applying for a license, the managing partner also added - "Currently, the provisional driving license is one of the only legally accepted forms of identification. You will be able to show your provisional driving license as proof of age when entering establishments such as nightclubs, pubs, bars or when purchasing lottery tickets, for example."
By logging on to way2drive.co.uk website, learner drivers in the UK can also find out more about doing their theory and practical driving tests, as well as learn all about the most important details from the Highway Code.
About the Company
Way2Drive offers a wealth of important information needed by learner drivers in the UK. The website helps learners locate a driving school in their area, learn about the process of applying for driving license, and give tips for passing their driving tests.
To find out more, log on to http://www.way2drive.co.uk.