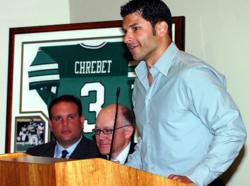 (PRWEB) April 23, 2013
New York Jets fan can meet legendary wide receiver Wayne Chrebet at the Sports Authority on 51st and 3rd in New York City this Wednesday, April 24th from 11 a.m.-1 p.m. Chrebet, the Jets' second all-time leading receiver, will be signing autographs and taking pictures with fans. For those who are unable to attend the event, they can catch Chrebet announcing the Second Round Pick at the 2013 NFL Draft.
This will be the first time Chrebet is on stage for the NFL Draft as he was not drafted by an NFL team. He instead earned a walk on spot on the Jets roster where he eventually worked up to become a starter. During his 11 seasons with the Jets, he caught passes from 13 different players, played for several different head coaches, and worked for two different owners. He earned the nickname "Mr. Third Down" because 379 of his 580 career receptions were third to first down conversions.
After eleven remarkable years with the New York Jets, Chrebet decided to hang up the jersey and announce his retirement. Chrebet was formally honored by the New York Jets on "Wayne Chrebet Day" during halftime of the September 23rd, 2007 game against the Miami Dolphins.
Recently, Chrebet joined Morgan Stanley as a financial advisor working out of the Red Bank, New Jersey office. In Fall 2012, Chrebet joined Barclays Capital as a financial advisor and Assistant Vice President working out of the Park Ave, New York City office.
Supporters of Wayne Chrebet can keep up with his latest appearances and autograph signing by visiting his official website, WayneChrebet80.com. His interactive site also allows fans to watch video highlights, view memorable photos of his career as well as the ability for corporations to book Chrebet for corporate appearances, speaking engagements, autograph signings, VIP Meet & Greets and product endorsement deals. Fans can also interact and ask Wayne questions on Twitter @WayneChrebet.
Written by: Anthony Fernandez
About AthletePromotions.com
AthletePromotions is a sports marketing firm and athlete booking agency booking thousands of athletes for speaking engagements, corporate appearances, product endorsements, autograph signings, spokesperson campaigns, celebrity golf tournaments, VIP Meet & Greets and more. To book Wayne, call us at 1.855.WAYNE.80