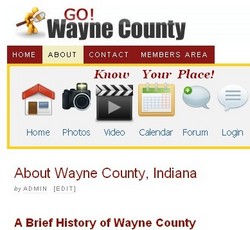 "I'm really excited about the fact that we have more than enough news to cover daily and that businesses are so receptive to a new outlet for advertising."
Richmond, IN (PRWEB) August 10, 2010
Since the newspaper industry began its decline, local sites have been popping up all over. Usually run by entrepreneurs and citizen journalists, these sites fill in the information gaps that newspapers leave as they cut staff and costs.
One such site, serving Wayne County, Indiana, is GoWayneCounty.com. Though the content is similar to other hyperlocal sites, there is one stark difference. Go Wayne County serves a small county in eastern Indiana with a population of under 100,000.
"As hyperlocal sites around the world struggle to make ends meet, we think we've come up with the right mix of advertising offers to make this work, even on our relatively small scale," says Jack Humphrey, the site's founder.
Go Wayne County is the first up-to-date, technologically current community portal and blog for our area. We focus on the people, places, and events that make Wayne County and its cities and towns a great place to live, work and play. Richmond, Indiana is the county seat and the "bustling metropolis" of Wayne County with 39,000 residents.
We have an exhaustively researched and manicured event calendar, daily stories about things like Antique Alley, interesting current and historical residents, local businesses and non-profits, architecture and history, nightlife, live music, and much more. Free accounts are available for Wayne County residents on our social network and forums and members are encouraged to help us with citizen journalism, photos, and videos along with announcements of upcoming events. We have a photo and video gallery that covers everything from local events to the outdoors and places to shop and play.
"Local businesses are still catching up to web marketing so we're not leaving any stone unturned. We're also publishing a monthly print newsletter that gets dropped in restaurants, coffee shops, bars, and waiting rooms around the county." Says, Editor, Jack Humphrey
By getting "on the ground" and working with a medium local businesses are used to, Humphrey is seeing interest in advertising in his offline newsletter grow while his team educates businesses about the value of online advertising. Humphrey offers package deals where offline and online ads are combined to give local businesses the best of both mediums.
The site's popularity is growing. Plugged in to Facebook and Twitter, Humphrey and his team are reaching residents where they spend most of their time and pulling them back to the site to sign up for free memberships.
"It's really working out well for us so far and interest is growing as we get out and meet more local business owners," says Humphrey. "We'll turn a profit in our first year and I see potential for enough advertising revenue to hire more staff early 2011."
"I see no limit to what can be done even for areas as small as ours. We had to combine all the towns in Wayne County to scrape together enough of a population to cover that would be appealing to local businesses," says Humphrey. "I'm really excited about the fact that we have more than enough news to cover daily and that businesses are so receptive to a new outlet for advertising."
The intent of GWC is to bring the county, its businesses and residents together where they can get news and information about what is going on now and to allow residents to share and be citizen journalists. It's GoWayneCounty's intent to provide independent, reliable, accurate, wide-ranging and relevant information to all residents and allow them to help provide that information as well.
For more information on the website and how to get your business listed with GoWayneCounty.com contact Jack Humphrey at http://www.gowaynecounty.com/blog/contact.
###