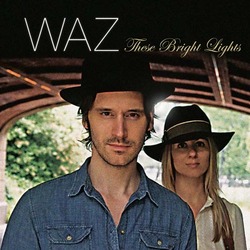 Los Angeles, CA (PRWEB) September 21, 2009
"These Bright Lights" is WAZ's coming of age album. This confessional 11 song record tells WAZ's story of falling in love and wedding his southern belle who graces the album with her angelic vocals and piano playing.
"These Bright Lights" was produced by Will Golden & WAZ, mixed and mastered by Tom Rogers (Magnetic Fields) with Special Guest Appearances by Pete Yorn & David Immergluck (Counting Crows).
Currently, WAZ is scoring Bill Lawrence & Courteney Cox's ABC Comedy "Cougar Town". "Cougar Town" premieres this Wednesday, September 23rd.
"As a show composer WAZ brings something incredibly special. He has the ability to make score music sound current, like it was just lifted off the radio, and yet, it still services the show perfectly. On SCRUBS we feel like we made some discoveries (Josh Radin) and some rediscoveries (Colin Hay). We're all music nerds here. As a group we're confident that WAZ will be the next singer/songwriter that we try to claim credit for. He's that good."

Growing up in Cleveland, Ohio, WAZ was heavily influenced by his parent's record collection which included artists such as The Pretenders, ELO, & Neil Young. At the early age of 8, 10cc's song, "The Things We Do For Love" inspired WAZ to pick up his first guitar. After graduating college, WAZ packed up his car and drove west having no idea what the future held. Within a day of arriving in California, he got a call from his college buddy Pete Yorn, to start a band.
Playing shows night after night WAZ was moved by the raw and emotional connection people have with heartfelt music & lyrics... It was this connection that inspired him to start writing his own songs and pursue his solo career.
In 2008, WAZ independently released both his debut album 'The Sweet Bye and Bye' and 'The Secret' EP produced by Will Golden & mixed by Jamie Candiloro (Ryan Adams, REM). "The Secret" debuted at #13 and the lead-off single "Ordinary Girl" climbed to #3 on iTunes Singer-Songwriter Chart. WAZ has been featured on Scrubs, Grey's Anatomy, The Hills, Men in Trees, and in Rolling Stone and Paste Magazine.
For more information on WAZ visit: MySpace.com/waz
Contact:
Jamie Jackson
GoodWin Entertainment
Jamie(at)GoodWinEntertainment.com
917-554-7483
###