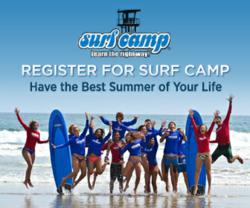 It was the first overnight camp for my 11 year old son. The staff with WB Surf Camp answered all my questions and made me very comfortable...Totally a fantastic experience, from initial contact to picking my son up. See you next summer! Kathy, Raleigh NC
Wilmington, N.C. (PRWEB) May 13, 2013
WB Surf Camp, a surf and summer camp company based in Wrightsville Beach, North Carolina, has released HD videos promoting their Wrightsville Beach teen overnight surf camp. The videos are available for viewing on YouTube, Vimeo, on their Facebook Page, and on their website at http://www.wbsurfcamp.com/video/teen-surf-camp.asp.
The exclusive footage features interviews with camp participants talking about their experience learning to surf, camping at the KOA campground, bonding with new friends, and taking part in a variety of activities along the North Carolina coast.
WB Surf Camp is one of the safest and most trusted overnight teen summer camp programs in the world. They run teen camps in locations including California, Costa Rica, Hawaii, Barbados and the Outer Banks in North Carolina. The seven-day summer camp in Wrightsville Beach, N.C., as featured in the new videos, is their flagship program.
Accommodations for teen campers are at the Wilmington, N.C. KOA Campground located within a mile of the WB Surf Camp Headquarters in Wrightsville Beach and minutes from the camp leaders' favorite surf breaks.
With a ratio of three students per instructor, most campers are brand new to surfing while others have some experience and are looking to improve their skills. In addition to detailed instruction and daily surf sessions, campers will also tour the North Carolina Aquarium at Fort Fisher, the Karen Beasley Sea Turtle Hospital, a surfboard factory and shop, and the local salt marshes. All participants will earn five hours of community service during the program. Other fun activities include volleyball, disc golf, foosball, and surf movies.
The video footage is inspiring for any teen looking for a summer travel adventure. Parents will also appreciate the glimpse they get from the videos that show not only what a great experience the camp is for the teens, but also that it is a safe, friendly, and educational opportunity for their children. In their 12-year history, camps are comprised of a diverse group of teens that have represented 46 US States and 23 countries, bringing with them unique cultures and experiences.
Some of the feedback from the campers include: "This is definitely the most fun I've ever had at camp;" "We don't want it to end;" "I loved it so much, I'm going to come back next year!"
For more information on the Wrightsville Beach teen surf camp program, visit http://www.wbsurfcamp.com/camps/camp_teen_wrightsville_beach.asp or call 1-866-844-7873.