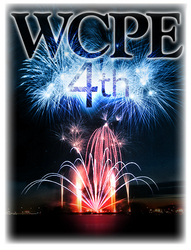 From the Colonial period we have William Billings, the Shakers, the Moravians and the Quakers
Wake Forest, NC (Vocus) July 2, 2009
Music Director William Woltz announces an Americana Weekend to celebrate the 4th of July. Listen for music from U.S. composers and performers, both native and adopted. The Saturday Evening Request Program on the Fourth will give you the chance to program your patriotic favorites.
"WCPE celebrates our country's birth," says Woltz, who is also the host of As You Like It. "You'll hear native sons (and daughters!)," he continues, "and our most famous guest composer, Dvorak."
Highlights of the celebration on the Fourth will be Copland's "Appalachian Spring", Gershwin's "Rhapsody in Blue", Sousa's "Stars and Stripes Forever" and Dvorak's "New World Symphony".
All American Sacred Music for Independence Day weekend on The Classical Station will include sacred and patriotic music from the 17th century to the 21st century.
"From the Colonial period we have William Billings, the Shakers, the Moravians and the Quakers," offers Ken Hoover, Great Sacred Music host. "African-American Spirituals and music of the romantic era are featured," adds Hoover. "Late 20th century masters will wrap up the program." Great Sacred Music is 8 to 11 a.m. Sunday morning, July 5, 2009.
The weekend's schedule can accessed at http://theclassicalstation.org/today.shtml.
WCPE's 24/7 live broadcast of Great Classical Music, 24 Hours A Day can be accessed by military and foreign service personnel around the globe in several ways; on-line streaming in multiple formats, including IPv6, small dish home satellite reception, local cable television systems and traditional radio broadcasting. A complete list of the ways WCPE is available with instructions for cable and satellite reception can be found at: http://theclassicalstation.org/listen.shtml.
About WCPE:
With a 30 plus year history, WCPE 89.7 FM is a non-commercial, 100 percent listener-supported, independent station dedicated to excellence in Great Classical Music broadcasting. Community-minded business underwriters and foundations are among the 150,000 listeners in the North Carolina broadcast area. General Manager Deborah S. Proctor's leadership has enabled the WCPE community to include national and worldwide listeners. Big and small dish home satellite transmissions serve North America. Other radio stations and cable television systems use these services to rebroadcast Great Classical Music, 24 Hours A Day. WCPE is one of the first public broadcasters to stream on the Internet. WCPE is heard worldwide on the Internet in multiple formats, including the next generation IPv6. Because WCPE receives no tax-derived support, the station conducts two on-air fundraising campaigns and two major mail-out campaigns per year to raise needed operating funds. For more information, visit http://www.TheClassicalStation.org or call 919-556-5178.
Media Contact:
Curtis Brothers
919.556.5178
# # #