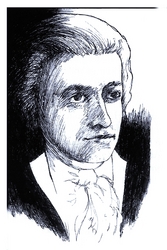 We will be featuring the 'Requiem', 'Ave verum Corpus' and 'Laudate Dominum'
Wake Forest, N.C. (Vocus) January 21, 2009
William Woltz, music director for WCPE, TheClassicalStation.org, announces today that in recognition of Wolfgang Amadeus Mozart's Birthday, WCPE is offering Mozart Madness January 25 through 27.
"Three days would not be enough to air all of the music of the Wunderkind," offers Woltz. "We'll have fun featuring Mozart throughout this three day celebration."
The radio festival will capture the full range of Mozart's compositions, beginning at 8 a.m. ET on January 25 with Great Sacred Music host Ken Hoover bringing a survey of his grandest and most beautiful music. "We will be featuring the 'Requiem', 'Ave verum Corpus' and 'Laudate Dominum'" says Hoover.
Each day has an overture: Sunday, 'Magic Flute'; Monday, 'Marriage of Figaro'; Tuesday, 'Don Giovanni'. Similarly, there are concertos, serenades and symphonies scheduled. The most famous piano concerto, 'Elvira Madigan', is on Sunday, the well known serenade 'Eine Kleine Nachtmusik' on Monday and the "Jupiter Symphony' on Tuesday.
The entire schedule can be found in our publication 'Quarter Notes'. Download the guide at http://theclassicalstation.org/guide/WCPE_Winter09.pdf .
In 1990 a group of psychologists studied Mozart's written personal history and labeled him as "Pathologically Optimistic." WCPE's Mozart Madness will explore, through music, his exuberance and hope, even when composing during times of personal hardship and despair.
WCPE's live broadcast of 'Great Classical Music, 24 Hours A Day' can be accessed around the globe in several ways; on-line streaming in multiple formats, including IPv6, local cable television systems and traditional radio broadcasting. A complete list of the ways WCPE is available with instructions for cable and satellite reception can be found at: TheClassicalStation.org/listen.shtml.
In central North Carolina and southern Virginia, WCPE is found on the radio at 89.7 FM.
About WCPE:
With a 30-year history, WCPE is a non-commercial, 100 percent listener-supported, independent station dedicated to excellence in 'Great Classical Music, 24 Hours A Day'. Community-minded business underwriters and foundations are among the 150,000 listeners in the North Carolina broadcast area. General Manager Deborah S. Proctor's leadership has enabled the WCPE community to include national and worldwide listeners. Other radio stations and cable television systems can rebroadcast 'Great Classical Music, 24 Hours A Day'. WCPE is one of the first public broadcasters to stream on the Internet. WCPE is heard worldwide on the Internet in multiple formats, including the next generation IPv6. Because WCPE receives no tax-derived support, the station conducts two on-air fundraising campaigns and two major mail-out campaigns per year to raise needed operating funds. 'Quarter Notes', the WCPE Program Guide, is published four times a year as a means to enhance appreciation and understanding of classical music. It is distributed to station supporters and is also available online at TheClassicalStation.org/guide. For more information, visit TheClassicalStation.Org or call 1-800-556-5178.
# # #