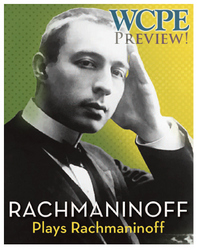 It would be so great if you could capture it.
Wake Forest, NC (Vocus) September 16, 2009
WCPE's Preview! host Deana Vassar announces an interview between Dr. John Q. Walker of Zenph Studios and Saturday Evening Request Program host Joe Purcell on September 20, 2009. They will discuss the release of a new album, "Rachmaninoff plays Rachmaninoff," a Zenph Re-performanceÒ of the composer's own works and transcriptions.
Zenph's team, headed by Dr. Anatoly Larkin, has analyzed Rachmaninoff's 78 rpm records from the first part of the 20th century and extracted the "DNA" of the performances from the limited recording technology of the time. This data was then used to recreate the music in pristine form on a specially-equipped 1909 Steinway D nine foot concert grand that may actually have been played by the Master.
Dr. Walker grew up near one of two students of Rachmaninoff, Ruth Slenczynska. When exhorted by Ms. Slenczynska to "Play it like Mr. Rachmaninoff!", "My reaction was, I want to hear him in person (I'll never be able to play like he did)," says Dr. Walker. Thirty years later, he got his wish.
The album contains two versions of each piece: one recorded in Kenan Recital Hall at Peace College, Raleigh, NC; the other recorded with a special "binaural dummy-head" which captures for the first time the unique perspective of the performer himself for headphone listening. Heard through headphones, it's as if you are Mr. Rachmaninoff himself!
"That special sound is still alive in me," wrote Ms. Slenczynska to Dr. Walker. "It would be so great if you could capture it." Upon hearing a pre-release version of the new album, she observed, "John Q., you have created something gorgeous!" "I … prefer the 'headset', because it seems more intimate."
"She may be the only person alive," opines Dr. Walker of Ms. Slenczynska, "who sat on the piano bench with Rachmaninoff."
WCPE's 24/7 live broadcast of Great Classical Music, 24 Hours A Day can be accessed around the globe in several ways; on-line streaming in multiple formats, including IPv6, small dish home satellite reception, local cable television systems and traditional radio broadcasting. A complete list of the ways WCPE is available with instructions for cable and satellite reception can be found at: http://theclassicalstation.org/listen.shtml.
About Zenph Studios:
Zenph® Studios is a software company that specializes in the algorithms and processes for understanding - and re-creating - precisely how musicians perform. Based in Research Triangle Park, North Carolina, a team of software engineers, researchers, and professional musicians has successfully accomplished what has been dreamed for years. Thousands have thrilled to re-performances by famed musicians staged in large halls. From the data that describe these note-perfect re-performances, we make clear, modern recordings. Great-sounding new recordings can be tailored for any acoustic, for example, for the latest in surround sound or headphone listening.
About WCPE:
With a 30 plus year history, WCPE 89.7 FM is a non-commercial, 100 percent listener-supported, independent station dedicated to excellence in Great Classical Music broadcasting. Community-minded business underwriters and foundations are among the 150,000 listeners in the North Carolina broadcast area. General Manager Deborah S. Proctor's leadership has enabled the WCPE community to include national and worldwide listeners. Big and small dish home satellite transmissions serve North America. Other radio stations and cable television systems use these services to rebroadcast Great Classical Music, 24 Hours A Day. WCPE is one of the first public broadcasters to stream on the Internet. WCPE is heard worldwide on the Internet in multiple formats, including the next generation IPv6. Because WCPE receives no tax-derived support, the station conducts two on-air fundraising campaigns and two major mail-out campaigns per year to raise needed operating funds. For more information, visit http://www.TheClassicalStation.org or call 919-556-5178.
Media Contact:
Curtis Brothers
919.556.5178
# # #