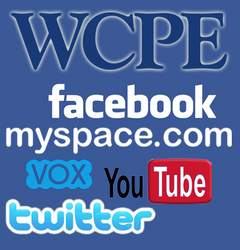 We know to whom we're speaking and who's interested in attending arts events.
Wake Forest, NC (Vocus) March 27, 2009
TheClassicalStation.org announces its adoption of social media building tools to communicate better with you, our listener. WCPE's Community Liaison Tara Lynn is taking advantage of these and other opportunities to build an "informal community bulletin board."
"A wealth of information and official business goes on our website," says Lynn. "Now we can connect with our community of music lovers in more ways behind the scenes."
"In the future, I see WCPE having the ability to mobilize music lovers with ease," she continues. "We know to whom we're speaking and who's interested in attending arts events."
The following are places to meet Tara and others at the station:
Twitter; twitter.com/WCPE
Facebook; facebook.com/pages/WCPE-Radio
Myspace; myspace.com/wcpe
Vox (blog); wcpe.vox.com
YouTube; youtube.com/user/WCPE
WCPE is fortunate to have local listeners and a community that finds us on the web from all over the world. The shared musical experience is just as clear in Raleigh as it is in Japan. Social network sites, blogs, videos- these are all tools that take the static out of the phone line, so to speak. A station built on listener contributions has an obligation to extend the board room table, even if it is a round table. Our listening experience is richer when we listen together; that's the beauty of community radio.
WCPE's live broadcast of Great Classical Music, 24 Hours A Day can be accessed around the globe in several ways: on-line streaming in multiple formats, including IPv6; local cable television systems; and traditional radio broadcasting. A complete list of the ways WCPE is available with instructions for cable and satellite reception can be found at theclassicalstation.org/listen.shtml.
About WCPE:
With a 30-year history, WCPE is a non-commercial, 100 percent listener-supported, independent station dedicated to excellence in Great Classical Music, 24 Hours A Day. Community-minded business underwriters and foundations are among the 150,000 listeners in the North Carolina broadcast area. General Manager Deborah S. Proctor's leadership has enabled the WCPE community to include national and worldwide listeners. Other radio stations and cable television systems can rebroadcast Great Classical Music, 24 Hours A Day. WCPE is one of the first public broadcasters to stream on the Internet. WCPE is heard worldwide on the Internet in multiple formats, including the next generation IPv6. Because WCPE receives no tax-derived support, the station conducts two on-air fundraising campaigns and two major mail-out campaigns per year to raise needed operating funds. Quarter Notes, the WCPE Program Guide, is published four times a year as a means to enhance appreciation and understanding of classical music. It is distributed to station supporters and is also available online at TheClassicalStation.org/guide. For more information, visit TheClassicalStation.org or call 1-800-556-5178.
Media Contact:
Curtis Brothers
919.556.5178
# # #