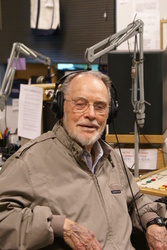 It was a very exciting event
Wake Forest, NC (Vocus) September 25, 2008
WCPE Volunteer Coordinator Jane O'Connor announces the recipients of the President's Volunteer Service Awards for their participation in various activities at the station.
The honorees are; Jonathan Bailey, Tanya Leigh Evans, Dr. Shirley Osterhaut, Barbara Batchelor, Dr. Warner Hall, Helen Halva, Joan Soper, Kathryn Atkinson, Lyle Adley-Warrick, John Bradley, Larry Hedlund, Paul Jordan, Robert K. Kennedy, Juergen Rathgeber, Karen Rose, Steven van Westendorp, Robert D. Kennedy, Richard W. Shirk, Edgar (Bud) Forsberg, Lesley Hyman, Joe Purcell, David L. Bryant, Dr. Elmo Scoggin.
Dr. Scoggin was awarded a lifetime award by the President for more than 4000 hours of service at WCPE. On September 15, he was also honored by the Wake County Commisioners with the Larry B. Zieverink Volunteer of the Year award at a luncheon.
"It was a very exciting event," said Dr. Scoggin. "I felt surprised and very humble."
He will be in the running for one of twenty N.C. Governor's Medallion Awards. Scoggin has volunteered at WCPE, a not-for-profit classical music radio station, for 24 years. He began by stuffing envelopes, cutting grass, cleaning and answering the phones. For the past 12 years he has hosted his own evening program, titled Music in the Night. In order not to disappoint his listeners, Scoggin has worked holidays and even spent three days at the station during a snow storm. Recently, he has taken on new duties as a script writer for the up-coming 30th Anniversary of WCPE.
Scoggin holds a Ph.D. in Hebrew and Biblical Studies and has participated in 30 archaeological excavations in Israel and Cyprus. Scoggin and his wife Hannah have one daughter, four grandchildren, and four great-grandchildren.
WCPE can be heard worldwide, 24/7, via the Web in multiple streaming formats, including the next generation IPv6. Visit TheClassicalsStation.org/internet.shtml to begin listening online.
Across North America, WCPE can be heard through cable television and radio transmission affiliates. For a complete list of affiliates and cable broadcasters, visit TheClassicalStation.org/rebroadcasters.shtml and TheClassicalStation.org/cable.shtml.
In central North Carolina and southern Virginia, WCPE is found on the radio at 89.7 FM.
For more information on WCPE, or to print a downloadable version of Quarter Notes, please visit TheClassicalStation.Org.
About WCPE:
With a 30-year history, WCPE is a non-commercial, 100 percent listener-supported, independent station dedicated to excellence in Great Classical Music broadcasting. Community-minded business underwriters and foundations are among the 150,000 listeners in the North Carolina broadcast area. General Manager Deborah S. Proctor's leadership has enabled the WCPE community to include national and worldwide listeners. Other radio stations and cable television systems are able to rebroadcast Great Classical Music. WCPE is one of the first public broadcasters to stream on the Internet. WCPE is heard worldwide on the Internet in multiple formats, including the next generation IPv6. Because WCPE receives no tax-derived support, the station conducts two on-air fundraising campaigns and two major mail-out campaigns per year to raise needed operating funds. Quarter Notes, the WCPE Program Guide, is published four times a year as a means to enhance appreciation and understanding of classical music. It is distributed to station supporters and is also available online at TheClassicalStation.org/guide. For more information, visit TheClassicalStation.Org or call 1-800-556-5178.
Media Contact:
Curtis Brothers
919-556-5178
curtis @ TheClassicalStation.org
http://theclassicalstation.org
# # #