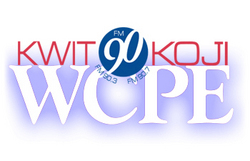 Wow, I'm hearing a Bach Brandenburg Concerto on WCPE now
Wake Forest, NC (Vocus) July 11, 2009
Outreach Director Curtis Brothers announces today a partnership with station KWIT, a service of Western Iowa Technical Community College in Sioux City, Iowa. Great Classical Music is shared on their HD2 (Hybrid Digital) channel at 90.3 FM. WCPE provides the majority of the programming with evening concerts from WFMT in Chicago and others. http://www.kwit.org/HD2grid.html is a link to the schedule.
"Wow, I'm hearing a Bach Brandenburg Concerto on WCPE now," says KWIT General Manager Gretchen Gondek. "I think I'm in heaven!"
"In the world of public radio this collaboration is quite unique," continues Gondek. "Stations with HD channels are making tough choices with budgets and staffing."
WCPE's Great Classical Music, 24 Hours A Day is available to partner radio stations and cable systems free of obligation. http://theclassicalstation.org/satellite.shtml is a link to information about the satellite channel used to deliver programming. Contact Outreach Director Curtis Brothers or Engineer John Graham at 800-556-5178 for assistance.
WCPE's 24/7 live broadcast of Great Classical Music, 24 Hours A Day can be accessed around the globe in several ways; on-line streaming in multiple formats, including IPv6, small dish home satellite reception, local cable television systems and traditional radio broadcasting. A complete list of the ways WCPE is available with instructions for cable and satellite reception can be found at: http://theclassicalstation.org/listen.shtml.
About KWIT-KOJI:
The mission of KWIT-KOJI is to enhance the quality of life by providing public radio that informs, entertains, and expands the mind. KWIT FM-90.3-KOJI FM90.7 airs from the campus of Western Iowa Tech Community College in Sioux City, Iowa. With 100,000 watts of power, KWIT-KOJI brings public radio to Siouxland communities within a 100 mile radius of Sioux City, including Northeast Nebraska and Southeast South Dakota. Since 1978, KWIT-KOJI has provided comprehensive news coverage from National Public Radio (NPR), classical and other quality music, and outstanding information and entertainment programming -- a format not available on commercial radio stations
About WCPE:
With a 30 plus year history, WCPE 89.7 FM is a non-commercial, 100 percent listener-supported, independent station dedicated to excellence in Great Classical Music broadcasting. Community-minded business underwriters and foundations are among the 150,000 listeners in the North Carolina broadcast area. General Manager Deborah S. Proctor's leadership has enabled the WCPE community to include national and worldwide listeners. Big and small dish home satellite transmissions serve North America. Other radio stations and cable television systems use these services to rebroadcast Great Classical Music, 24 Hours A Day. WCPE is one of the first public broadcasters to stream on the Internet. WCPE is heard worldwide on the Internet in multiple formats, including the next generation IPv6. Because WCPE receives no tax-derived support, the station conducts two on-air fundraising campaigns and two major mail-out campaigns per year to raise needed operating funds. For more information, visit http://www.TheClassicalStation.org or call 919-556-5178.
Media Contact:
Curtis Brothers
919.556.5178
###