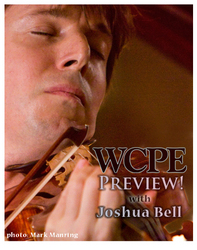 This brings the greatest artists on the planet together
Wake Forest, NC (Vocus) October 8, 2009
WCPE's Preview! host Deana Vassar announces an interview with violinist Joshua Bell. They will discuss the release of a new album, 'At Home With Friends', an eclectic CD of personal performances with a wide range of musical talents, Sunday October 11, 2009 at approximately 7 p.m. ET.
"This brings the greatest artists on the planet together," says Vassar. "Kristen Chenoweth, Edgar Meyer, Sting, Anoushka Shankar and even a Zenph Re-Performance® with Sergei Rachmaninov!"
The Rachmaninoff piece is interesting because the transcription of Greig's Sonata in c minor #3 was recorded with his friend Fritz Kreisler but never performed in public. Mr. Bell performed 'live' with Rachmaninoff at Steinway Hall in New York September 21, 2009, rendering his reading of the Kreisler part. This Sunday, Ms. Vassar will air the exclusive world premiere of this amazing moment.
"This CD is a departure for Joshua," continues Vassar. "He has always immersed himself in the classical and movie music worlds."
"It's deeply personal, Joshua's favorite people playing his favorite music," she adds. "The CD has everything from classical to alternative to bluegrass, the Beatles and sitar music!"
WCPE's 24/7 live broadcast of Great Classical Music, 24 Hours A Day can be accessed around the globe in several ways; on-line streaming in multiple formats, including IPv6, small dish home satellite reception, local cable television systems and traditional radio broadcasting. A complete list of the ways WCPE is available with instructions for cable and satellite reception can be found at: http://theclassicalstation.org/listen.shtml.
About Joshua Bell:
For more than two decades, Joshua Bell has enchanted audiences worldwide with his breathtaking virtuosity and tone of rare beauty. He came to national attention at the age of 14 in a highly acclaimed orchestral debut with Riccardo Muti and the Philadelphia Orchestra. A Carnegie Hall debut, the
prestigious Avery Fisher Career Grant, and a recording contract further confirmed his presence in the music world. Today he is equally at home as a soloist, chamber musician, and orchestra leader. His restless curiosity and multifaceted musical interests have taken him in exciting new directions that has earned him the rare title of "classical music superstar."
About WCPE:
With a 30 plus year history, WCPE 89.7 FM is a non-commercial, 100 percent listener-supported, independent station dedicated to excellence in Great Classical Music broadcasting. Community-minded business underwriters and foundations are among the 150,000 listeners in the North Carolina broadcast area. General Manager Deborah S. Proctor's leadership has enabled the WCPE community to include national and worldwide listeners. Big and small dish home satellite transmissions serve North America. Other radio stations and cable television systems use these services to rebroadcast Great Classical Music, 24 Hours A Day. WCPE is one of the first public broadcasters to stream on the Internet. WCPE is heard worldwide on the Internet in multiple formats, including the next generation IPv6. Because WCPE receives no tax-derived support, the station conducts two on-air fundraising campaigns and two major mail-out campaigns per year to raise needed operating funds. For more information, visit http://www.TheClassicalStation.org or call 919-556-5178.
###