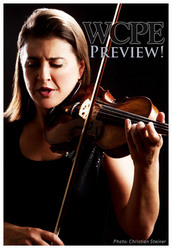 There was overwhelming audience response when played live.
Wake Forest, NC (Vocus) September 3, 2009
WCPE's Preview! host Deana Vassar announces an interview with violinist and music director Nadja Salerno-Sonnenberg on September 6, 2009. They will discuss the release of a new album, "Together", her first recording with the New Century Chamber Orchestra after becoming the Music Director of the ensemble.
The album has a world premiere of a piece by Clarice Assad, "Impressions". "This had to go on the CD," says Ms. Salerno-Sonnenberg. "There was overwhelming audience response when played live."
"I've only recently discovered what an incredibly joyful job I have," she continues.
The life of a concert violinist is very hard on the body. "I had to laugh when I asked Nadja if she, like Yehudi Menuhin, had tried yoga," Vassar quips. "She says she is more inclined to try whiskey!"
WCPE's 24/7 live broadcast of Great Classical Music, 24 Hours A Day can be accessed around the globe in several ways; on-line streaming in multiple formats, including IPv6, small dish home satellite reception, local cable television systems and traditional radio broadcasting. A complete list of the ways WCPE is available with instructions for cable and satellite reception can be found at: http://theclassicalstation.org/listen.shtml.
About Nadja Salerno-Sonnenberg:
Nadja Salerno-Sonnenberg's professional career began in 1981 when she won the Walter W. Naumberg International Violin Competition. In 1983 she was recognized with an Avery Fisher Career Grant, and in 1988 was Ovations Debut Recording Artist of the Year. In 1999 she was honored with the prestigious Avery Fisher Prize, awarded to instrumentalists who have demonstrated "outstanding achievement and excellence in music." In May of that same year, Ms. Salerno-Sonnenberg was awarded an honorary Masters of Musical Arts from the New Mexico State University, the first honorary degree the University has ever awarded. An American citizen, Ms. Salerno-Sonnenberg was born in Rome and immigrated to the United States at the age of eight to study at The Curtis Institute of Music. She later studied with Dorothy DeLay at The Juilliard School.
About WCPE:
With a 30 plus year history, WCPE 89.7 FM is a non-commercial, 100 percent listener-supported, independent station dedicated to excellence in Great Classical Music broadcasting. Community-minded business underwriters and foundations are among the 150,000 listeners in the North Carolina broadcast area. General Manager Deborah S. Proctor's leadership has enabled the WCPE community to include national and worldwide listeners. Big and small dish home satellite transmissions serve North America. Other radio stations and cable television systems use these services to rebroadcast Great Classical Music, 24 Hours A Day. WCPE is one of the first public broadcasters to stream on the Internet. WCPE is heard worldwide on the Internet in multiple formats, including the next generation IPv6. Because WCPE receives no tax-derived support, the station conducts two on-air fundraising campaigns and two major mail-out campaigns per year to raise needed operating funds.
For more information, visit http://www.TheClassicalStation.org or call 919-556-5178.
###