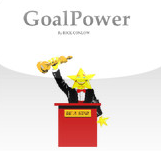 You are a success today!
Stillwater, MN (PRWEB) March 16, 2012
GoalPower, the new iPhone app, includes the goal-making, success-generating essentials:

A copy of the comprehensive GoalPower book.
21 interactive exercises that ask questions, generate ideas, and awaken dreams.
Stories from those that have bridged the gap between their goals and their realities.
A complete collection of audio tracks by Rick Conlow, the inspiring leader and author.
Personally and professionally, goals are pivotal to achieving success. Yet, research shows that only 10 percent of people make goals. Regardless of the various reasons why goals aren't created, pursued and achieved, the truth remains: enormous potential remains untouched.
The GoalPower app is available in the Apple Store on iPhones, iPods and iPads, as well as online at iTunes.
Author of GoalPower, Rick Conlow of WCW Partners, has made positive waves in various industries worldwide. Rick's enthusiasm has engaged clients all over the country who want to excel in sales, service and leadership. Rick is the CEO of WCW Partners, which is a performance-improvement company that's dedicated to helping organizations increase sales and customer retention, while simultaneously improving employee loyalty, engagement, and productivity. This is WCW's second release in two months, the first of which was The SuperSTAR Leadership Model. For more information, contact 888-313-0514.