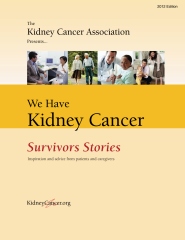 While each of the stories in this book is different, all of them are powerful.
Chicago, IL (PRWEB) June 27, 2012
We Have Kidney Cancer: Survivor Stories is the new publication that chronicles the experiences of more than a dozen long-term cancer survivors. The Kidney Cancer Association (KCA) has just released a companion series of videos featuring the same survivors whose interviews appear in the book.
The Kidney Cancer Survivors Project was conceptualized by cancer survivor Michael B. Lawing. "For years the KCA publication We Have Kidney Cancer has been an invaluable source of accurate, up-to-date clinical information in a very readable and understandable format for caregivers and survivors of kidney cancer."
Lawing adds, "We Have Kidney Cancer: Survivors Stories complements that authoritative work by sharing some of the experiences of actual patients and caregivers as they deal with the challenges of living life to the fullest in spite of a cancer diagnosis. While each of the stories in this book is different, all of them are powerful. Together, they form a collection that can change lives."
During the month of July, both the book and companion video series will be featured prominently on the KCA's home page at KidneyCancer.org. Both We Have Kidney Cancer and We Have Kidney Cancer: Survivors Stories are available in several formats, including paperback, PDF, and Kindle books.
The books are free in electronic format from KCA and may be purchased for $17.99 from Amazon.com as paperbacks or 99 cents for the Kindle versions. The companion videos may be accessed from both KCA's home page and YouTube as playlist.
KCA was founded in 1990 by a small group of patients, including Eugene P. Schonfeld, Ph.D., and medical doctors in Chicago. It is a nonprofit charity incorporated in the State of Illinois. It has also been designated as a tax exempt organization under Section 501(c)(3) of the U.S. Internal Revenue Service code. Donations to the Association are tax deductible.