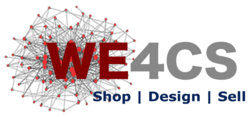 Strong Community Ecosystems the next evolution of the Internet levels the playing field. Jobs outsourced are permanent, however, communities can create new demand and in the process standup new brands and jobs.
- Greg Adkins, CEO
North Branch Station, New Jersey (PRWEB) November 22, 2011
What kind of holiday or birthday present do you give the person who has everything? How about a piece of the WE4CS community ecosystem?
Greg Adkins' newly created web shop, WE4CS, provides an eclectic mix of African American artwork and memorabilia guaranteeing a unique gift for any history lover, but it also provides much more.
In addition to selling exclusive, limited edition products such as an original silkscreen designed and created by Muhammad Ali or a historic photo of Civil Rights leaders meeting with President John F. Kennedy in 1963, Adkins' real product is the process itself. His website, WE4CS and was developed to be a place where members could design and sell products, all with an emphasis on these products originating in North America. The full name of his company, Wealth Ecosystems4Communities reflects that purpose.
"Community Ecosystems offers the opportunity to create small to medium size businesses while at the same time allowing members in that community to become primary customers," Adkins says. "In my vision, it's a method for communities to start to learn how to replace outsourced brands," he adds.
To begin this endeavor, Adkins turned to his own experience. With his own life-long hobby of collecting, it was a natural step for Adkins to offer items from his one of a kind cache. Some of his most exclusive acquisitions, however, were assembled by Ruby Brisco, a New Jersey resident who began clipping and making posters of African American events, culture, and night life surrounding the African American community from 1940 – 1970. Her collection was found in 2004 in a basement box where it sat for more than 30 years.
One of Adkins' favorite items from the Brisco collection is World Champion Brooklyn Dodgers 1955.
"It's simply beautiful in all its golden brown splendor," Adkins says. "I've collect art all my life, and the way this image was baked to a golden brown created a vintage look and feel that could not be created by an artist - this was made by Mother Nature."
While African American artwork is a significant part of the WE4CS inventory, his store offers a culturally diverse selection including Dominican art and jewelry, hand painted Japanese vases, Israeli ceramic vases and Mexican folk art.
Lovers of the unusual will also find Adkins own book, "Content of Character," and supporting collage series offer a retrospective of African American history, told through fine art engravings, photographs and paper archives.
"Whether you are a seasoned art collector, history expert, or need to ensure access to relevant African American history, this site and its art, books and collages are the perfect gift for the holiday," Adkins says. "These items are designed to become instant collectors' items, and will make Christmas 2011 stand out as the year you received a gift worth talking about," Adkins predicts.
About Wealth Ecosystems4Communities (WE4CS)
WE4CS provides a unique opportunity for individuals interested in promoting and selling products and services specifically made in North America. Their goal is to provide the very best products made in North American - delivering value to customers and revenue opportunities for affiliates. Success will be measured based on how effective members are in standing up new brands and creating sustainable jobs.
###