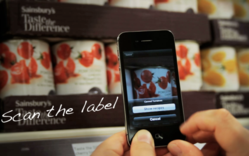 "When we tested this in a supermarket, everyone wanted it"
London, UK (PRWEB UK) 1 August 2012
Busy food shoppers who are looking for inspiration will soon be able to use a new app that uses the latest smartphone camera technology to give them cooking ideas.
The Cucumber app is the first iPhone application that uses automatic image recognition to identify branded food products and then recommend recipes that can use that ingredient.
London based apps developer We Are Apps has released a preview of the technology, which is aimed at busy shoppers who are looking for inspiration but don't want to fiddle around searching for recipes online using their smartphone in a busy supermarket.
We Are Apps Managing Director, Ian Malone says, "Most products on supermarket shelves are stacked with the label facing forwards. This means that barcode or QR codes aren't visible without the user having to move or hold the product. With Cucumber, the user can scan the label itself, so they don't have to put down their bags or basket to interact with the product. It's a big thing for the supermarkets."
"With Cucumber, you quickly scan the product then get suggested recipes either from the web or from a carefully curated list of recipes held on the app itself. All of the major ingredients will be represented, so potentially there will be thousands of recipes to give the user ideas to cook for supper."
The web recipes are also curated to only include recipes optimised for the smartphone's smaller screen. The recipes embedded on the app itself are supplied by leading cookery publishers and will feature dishes from celebrity cooks.
Users will be able to create their own customised recipe book by creating libraries of their favourite recipes. They can also take advantage of shopping list creators for missing ingredients and the app also has an extra timer to compliment the iPhone's existing one.
The app is due to be released in Autumn/Fall. In the meantime, users will be able to visit facebook.com/cucumberapp and recommend the products they want to see the app recognise, make recipe suggestions and sign up for an alert when the app become available in the app store.
About We Are Apps
We Are Apps develops applications on behalf on brands and start-ups from its studios in London Silicon Roundabout, Old Street. The company is 2 years old and its previous apps have been voted "One of the greatest 100 apps, ever" by Apps Magazine and it currently has an app in the Sunday Time's Best apps in the World.