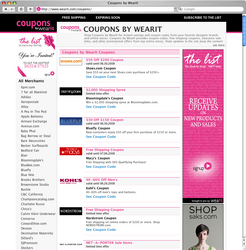 Living 75 miles away from the Gilroy Outlets, I spend almost as much filling my Land Rover for the trip as I do on the t-shirts I buy on sale
Palo Alto, CA (PRWEB) June 24, 2008
WearIt, the online fashion company, introduces Coupons by WearIt (http://www.wearit.com/coupons) to help online shoppers save money. Focused exclusively on clothing and apparel, the site collects special seasonal offers, discount coupons, and promotional codes from over 100 online merchants like Macys.com, Nordstroms.com, and Bloomingdales.com. With new coupons added daily, Coupons by WearIt provides shoppers with easy access to fresh online savings and deals. Links to clearance sites and online discount stores connect consumers at home with many of the same deals found in outlet stores located hours away.
With the nationwide price for regular gasoline averaging over $4.00 per gallon and expected to head higher during the summer driving season, Americans looking to save at the pump are turning to online shopping. According to the Department of Transportation, Americans drove 1.4 billion fewer highway miles in April 2008 versus the same period in 2007. For those looking to avoid the extra car trip, Coupons by WearIt lets online shoppers discover the hot summer sales found at the local mall from the comfort of home.
"Living 75 miles away from the Gilroy Outlets, I spend almost as much filling my Land Rover for the trip as I do on the t-shirts I buy on sale," commented Angie Nguyen of Palo Alto, California. As discovered in a survey conducted by iCongo and Harris Interactive in April, 33 percent of consumers in the US plan to shop more online because of higher gas prices.
In addition to helping shoppers save at the pump, Coupons by WearIt allows customers to avoid shipping costs when shopping online. The site features a free shipping section that lists merchants with free shipping promotions.
The site's Coupon Concierge Service makes redeeming offers easier than clipping coupons from the local paper - simply copy and paste the savings code into the merchant's site when completing a purchase. With 55 percent of merchants offering free shipping and 39 percent offering codes and sales good for more than 20 percent off purchases, Coupons by WearIt enables shoppers to capture the best summer sales while avoiding the pinch at the pump.
About WearIt:
WearIt, the online fashion company, helps shoppers discover and share new styles online. Through The List, a free personal shopping service, WearIt offers a convenient and easy way for members to look good while saving both time and money. The company's newest property, Coupons by WearIt, connects shoppers with the hottest promotions from top online clothing and apparel merchants. WearIt's three Facebook applications - Shoe of the Day, Handbag of the Day, and Dress of the Day - empower over 100,000 global members to share and discuss the latest in fashion trends. WearIt is based in Palo Alto, CA.
Contact:
Kate Fogelsong
WearIt.com, Inc.
kate @ wearit.com
888-793-2748
###