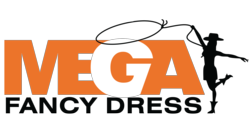 "We expect our latest additions to the pink wig line up to sell like hot cakes since they are popular for both men and women" Katy Bearman, Customer Service Assistant
(PRWEB UK) 4 October 2012
'Wear it Pink Day' is the main fundraising event for the charity Breast Cancer Campaign. The charity holds the event in October each year and they have raised over £10 million so far. Online retailers Mega Fancy Dress see a surge in sales of pink fancy dress costumes each year throughout the month of October as people search their website for the latest pink themed outfits and accessories to dress up in on 'Wear it Pink Day'.
'Wear it Pink Day' was conceptualized out of the charity Breast Cancer Campaign as a fun way for the public to raise vital funds to support ongoing research for breast cancer. On the day people are encouraged to wear as many pink items of fancy dress as they can and get sponsored to do so.
The event forms part of a bigger initiative throughout the month of October called the Breast Cancer Campaign's Breast Cancer Action Month. As part of the awareness campaign, many famous London landmarks, such as, Buckingham Palace, The Tower of London and Trafalgar Square are being illuminated with pink lights to help turn the skyline pink for the charity.
Although there are some big players onboard the Breast Cancer Action Month, like Buckingham Palace, giving the charity publicity, there is still a real need for the general public to get sponsored and wear some great pink fancy dress come 'Wear it Pink Day'.
Customer Service Assistant, Katy Bearman talks about what is popular for 'Wear it Pink Day':
"We love 'Wear it Pink Day' because customers call us to find out the latest pink wigs, fancy dress costumes and pink accessories we have on offer. It's been great this year as we have more pink items to offer people than ever before. New for this year are the pink afro wigs, a lovely pink glamour wig and a pink sparkle rock diva wig. We expect our latest additions to the pink wig line up to sell like hot cakes since they are popular for both men and women. For a complete pink look many women go for the 1950s style with our Pink Ladies Jackets and Pink Rock n Roll Skirts. For men and women the Pink Panther costume, Miss Piggy from The Muppets and Pink Skinz bodysuits are popular too. If people are looking for a laugh we recommend the Pink Baby costumes with an oversized dummy as they are a lot of fun."
It is often adults who take part in 'Wear it Pink Day', but Mega Fancy Dress suggest not forgetting the kids in this fantastic, fun fundraising event. Kids can dress up in the latest pink fancy dress costumes including new ranges of Pink Batgirl and Pink Supergirl costumes for the girls and pink crayola and deluxe piggy animal costumes for the boys. Mega Fancy Dress will be wearing their pink fancy dress come 'Wear it Pink Day' and then getting geared up for the next event on the calendar their Halloween fancy dress party. The online retailer are also promoting 'Wear it Pink Day' by running competitions on the mega fancy dress facebook and twitter pages for people to win pink fancy dress ahead of the day itself.
'Wear it Pink Day' encourages people to let go of their inhibitions and dress in pink fancy dress costumes for Breast Cancer Campaign. The success of the charity fundraising day in recent years will hopefully mean that huge amounts of funds are raised in 2012. If everyone helps by wearing pink fancy dress come October 26 then the 'Wear it Pink Day' will be a huge success.
About Mega Fancy Dress
Mega Fancy Dress is a UK based company that provides Fancy Dress Costumes and accessories to online customers. Since 2006, Mega Fancy Dress has consistently offered the best quality fancy dress costumes at some of the most competitive prices on the market. Mega Fancy Dress is a Top 5 Google UK searched online fancy dress company.
Follow Mega Fancy Dress:
On Twitter: @ megafancydress
On Facebook: megafancydresscostumes
For more information visit http://www.megafancydress.co.uk or call +44 (0)845 634 4193